Hi there!
Still on the summer theme for today's recipe, after all it's still baking here in England and we need all the cooling we can get!
I am afraid to announce though, that today's recipe is……it….it's a salad folks.
Now I'm sure by now in light of my hippy dippy bento box and now this I will be known as a sell out and a kale club conspirer BUT I promise that pretentiously used vegetables are nowhere in sight…or do I mean..in site?
In fact vegetables aren't really the main star of this meal but it is still super healthy and delicious.
I have to admit that vegetables would have played more of a part in this meal had the white cabbage I had intended to use been in better shape, so add some in, grated, to get the full effect of my recipe as intended!
Considering I mentioned this recipe is quite healthy it shouldn't be much of a surprise to know that it is inspired by Japan, one of the healthiest countries in the world!
Today, I'm using Soba noodles, known for their cooling effect over in Japan and a fantastic way to stay cool.
They're probably considered cool in the other sense of the word too as I have seen a few recipes using Soba noodles from famous "chefs".
They all seem to get something extremely important wrong about preparing soba noodles though.
The washing!
Lots of recipes I have seen will tell you to rinse them under the tap until they're cool, but they need a lot more washing than that!
If you've ever had soba noodles which are slimy and smell very strongly of wheat someone has done it all wrong and you can be excused for thinking you didn't like them.
In fact you need to wash your noodles as if you would your hair.
No, I don't mean putting shampoo and conditioner in but do thoroughly go through each strand and make sure it is no longer slimy or smelling of wheat.
My recipe is a base really so do go ahead and add what you like.
As I mentioned, this recipe should have some raw grated white cabbage in it so go ahead and add that, spring onions would be lovely in there too, maybe a bit of cold cooked chicken and of course if you have a nut allergy substitute the toasted peanuts with toasted sesame seeds, though try out both if you're not!
So, without further ado, I present…..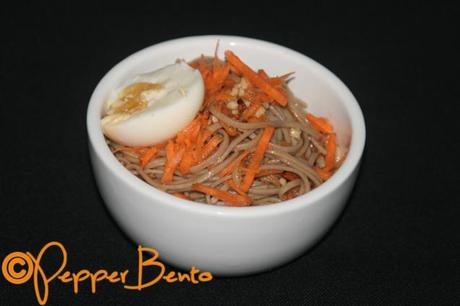 Pepper's Cold Soba Noodle Salad
Serves 2
Ingredients
For the salad
85g dry soba noodles
2 medium sized eggs
1 medium carrot
35g chopped peanuts (or sesame seeds)
For the sauce
1 tablespoon pure sesame oil
2 tablespoons vegetable oil
2 teaspoons soy sauce
1 teaspoon rice vinegar
2 teaspoons granulated white sugar
Method
Place the two eggs in a small saucepan of boiling water.
Turn off the heat and leave with the lid on for 8 minutes.
When cooked, run cold water over them until completely cooled, set aside.
In a large sauce pan of boiling water add the Soba noodles and cook until they are soft all the way through, see the back of the package for an idea on time and keep checking!
Drain the Soba noodles and run a cold water tap over them until they are cool enough to handle.
When cool enough, gently massage them, rotating them until the slimy feeling and wheat smell on the noodles has completely gone though out.
Set aside.
Place all of the ingredients for the sauce into a jug and stir until everything is combined and the sugar has dissolved.
Top and tail the carrot, peeling it of it's skin then grate it. Set aside.
In a small frying pan, add the nuts (or sesame seeds) on a medium heat and toast until the nutty aroma is released and a golden color is achieved.
Place these in the sauce and stir.
Place the soba noodles into a large bowl along with the carrot and sauce, tossing until combined.
Lastly, put the noodles in individual bowls and peel and halve the eggs, placing them on top.
Serve immediately!