Today I wanted to share my recipe for a really cheap, quick and easy Fisherman's pie that can be made from leftovers or from really cheap ingredients to make a really filling dish.
For this recipe you can use leftover mashed potato or you could even use instant.
I used instant mashed potatoes in today's recipe because that is what I had to hand, it's really cheap, convenient and actually it tastes pretty good, especially when it's smothered with cheese and baked again as this recipe!
This recipe also calls for breaded fish fillets.
You can use fish fingers if you like but the key is get quality ones, we're talking flakes of fish not mush!
It will work just as well if the fillets aren't breaded too!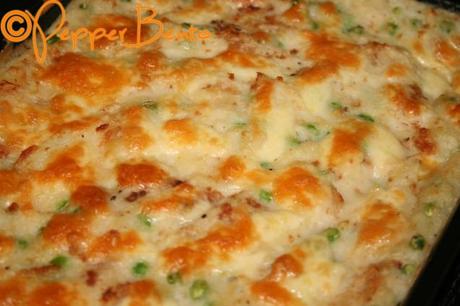 Pepper's Cheap & Cheerful Fisherman's Pie
Serves 2-4
Ingredients
700g leftover mashed potato or instant
375g breaded fish fillets or good quality fish fingers
30g butter or to taste
30ml milk or to taste
100g frozen peas
Cheddar cheese grated to taste
Salt and pepper
Method
To start, follow the cooking instructions for the fish and when cooked, take them from the baking tray and put them to one side.
Place the same baking tray in the oven again and preheat the oven to 220oc.
Place the mashed potato in a large bowl and add in salt and pepper, butter and milk in to taste, mix well.
Add in the frozen peas and mix well, then flake the cooled fish into small pieces with your hands and mix so you get some fish in every bite.
Add more seasoning now if needed.
In a 7″x11″ rectangular dish, place the mixture in and spread evenly so it is an even thickness and goes right to the edges of the pan.
Grate over some cheddar cheese of choice until covered how you like then place in the oven on to the preheated baking tray for 7-10 minutes or until the cheese is golden and bubbling and the meal is hot all the way through.
Serve with some crusty buttered bread and mushy peas!