Today I thought I'd share my recipe for braised pork, something lovely simple and wholesome to counterbalance the chocolate galore you may have experienced over the Easter holidays.
Oh, don't forget, you can still enter my Slim Snacks giveaway until Sunday!
I will announce the winner on Monday as well as having another giveaway for you guys for my big birthday bonanza!
Getting older is so much fun!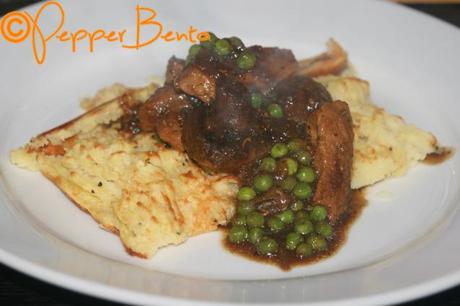 Pepper's Braised Pork
Serves 2

Ingredients
2 tablespoons vegetable oil
450g lean pork meat, cut into cubes
Half a large white onion or one small chopped finely
Quarter of a Bramley apple, cut into cubes, skin on
10 whole white mushrooms
6 sage leaves, chopped finely
1 tablespoon English mustard
2 handfuls frozen peas
200ml chicken stock (enough to cover)
Salt & Pepper
Method
Preheat the oven to 160oc.
Heat a large casserole dish with 1 tablespoon of oil and when heated, add the pork cubes, mustard and salt & pepper to taste cooking until the pork is browned on all sides.
Remove pork from the pan and add in a tablespoon of oil as needed.
Add the finely diced onion and the sage and cook until golden.
Add in the apple and cook until softened then add in the mushrooms and let them cook down for a couple of minutes.
Add in the pork, any juice that has collected and the stock.
Bring the pot to a boil and place with the lid on in the heated oven for an hour.
When the pork is really tender, remove from the oven and add in frozen peas, folding them in and placing the lid on until they are defrosted and tender.
Serve with mashed potato or as I did, use the technique for crispy mashed potato from Gordon Ramsay's cottage pie recipe.