Turkey.
Is it just me or have you also noticed how turkey is so under appreciated?
It seems to have a bad reputation of being "dry" and the sort of food you only eat when you're forced at Christmas or if you're American, Thanksgiving.
It's pretty sad given how similar to it's ever popular cousin the chicken it really is.
It seems to be the "B Class" meat of choice if you can't afford that chicken you wanted or if they didn't have any in stock.
You won't see me complaining at the lower price for the lower demand but Turkey's are bigger animals than the chicken so doesn't it make sense from a resource standpoint to eat turkey?
In fact, there has been a whole campaign here in the UK to "love Turkey", no not in THAT way.
Can you believe people are really that stubborn and hard headed that someone had to go to those extremes just to encourage people to try something different to usual?
(Yes!!!)
It's a lot like the white fish here in the UK, it looks to be changing now but it seemed most people only knew they liked the one fish, Cod, and that was all that they would eat.
Of course, other less endangered fish taste similar but the public don't like to try new things!
So, today's recipe is a little nod of appreciation for turkey, it's not any lower than chicken and if you cook it right, it's not dry either!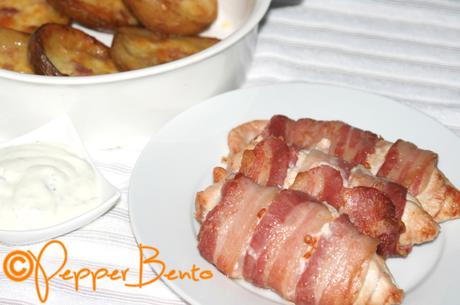 This recipe is great to go on some crusty cobs, or to serve as I have with some cheesy bacon potato skins.
The bacon, which can be smoked or unsmoked depending on your preference, seasons the turkey giving it a salty hit so there's no need to add any other seasonings.
It's only 5 minutes maximum of work but they look quite nice and would go well at a dinner party even cut up and put on skewers as party favours.
I've used "quick cook" (thin) turkey "steaks" which are just turkey breast cut into steak like slices.
It's not any of that reformed muck so make sure it's proper breast when you buy!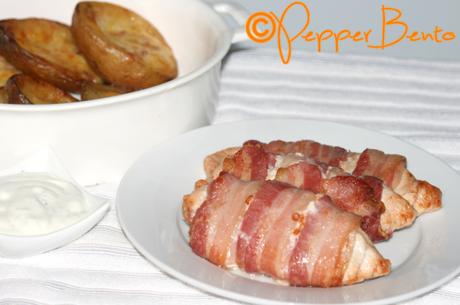 Pepper's Bacon Wrapped Turkey Steaks
Serves 2 -4 as part of a meal
Ingredients
5 British thin "Quick Cook" turkey breast steaks
15 rashers British bacon, smoked or unsmoked
Method
Preheat the oven to 230oc, 220oc if your oven doesn't support that temperature.
Make sure the rack is at the top position.
On a clean work surface, lay down three rashers of bacon side by side.
In the middle of the bacon, place the turkey steak.
Fold the small non-uniform piece of turkey on the one hand side on top of the rest of the turkey to form a more uniform shape then fold the bacon all the way round the turkey, tucking it in for presentation.
Place on a grill rack over a large tray and repeat until all of the bacon and turkey is used.
Place in the oven for 15 – 20 minutes or until the bacon is crispy and delicious!
Serve as a roast dinner with roast potatoes, vegetables and gravy, in sandwiches with a touch of mayonnaise or on the side with some tasty potato skins!