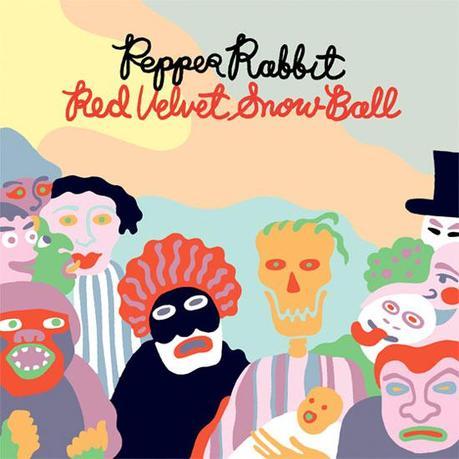 Lush instrumentation and psychedelia have lately fallen out of favor in the LA music scene, giving way to the throwback beach pop that is currently infecting the blogosphere (we can't really say airwaves anymore, can we). Hopefully Pepper Rabbit's masterful sophomore album will bring lushness back into fashion.
Red Velvet Snowballs is truly a dense, beautiful record submerged in swirling soundscapes. In fact, I find it difficult to believe that its rich textures are the work of only two people. Xander Singh and Luc Laurent pile on the flourishes, from the twinkling pianos and alarm bells of the standout "Allison" to the electronic groaning and handclaps of "Rose Mary Stretch." Where the addition of so much sound could overwhelm the album, making it buckle under it's own weight, Pepper Rabbit manages to make their songs feel light and soaring. The key is the understated, though powerful vocals from Xander Singh that act as a grounded center piece and a rhythm section solid enough to allow for the extra weight.
Red Velvet Snowball is full of track after track of excellence, but the bookends "Lake House" and "Tiny Fingers" work perfectly together to sum up the accomplishment of such a spectacular record. "Lake House" builds slowly from it's Fleet Foxes style, naturalist harmonies to an explosion of of noise and "Tiny Fingers" ends the record as a slow and beautiful ballad. With each song, Pepper Rabbit adds and subtracts sounds and layers, always managing to create something solidly enjoyable and infinitely re-listenable.
Though Red Velvet Snowball represents a different sound from their first release, the duo never fully give up the pop-rock backbone that drove Beauregard, allowing a full dissent into sonic experimentation. The album never feels like the work of a band playing with the parameters of their music. It never feels labored or bloatedly pretentious as these types of albums tend to be—it's never less than completely enjoyable.
buy the album // watch our Pepper Rabbit sessions