Finally!! Bennett has been called up from WBS and is expected to play against Winnipeg on Friday. Looks like removing Tangradi opened up the roster spot for Beau Bennett. This also officially marks the end of the terrible Zach Boychuk 2nd Line experiment and it also means Matt Cooke can move back down to the 3rd Line where he belongs
Pens Recall Beau Bennett From AHL
February 14, 2013 11:05 AM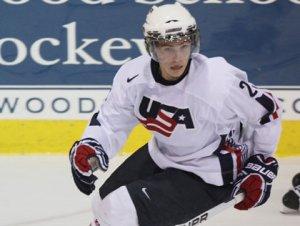 (Photo by Bruce Bennett/Getty Images)



PITTSBURGH (KDKA) – A day after trading away Eric Tangradi, the Pittsburgh Penguins have called up Beau Bennett from their AHL affiliate in Wilkes-Barre/Scranton.
According to a press release from the team, the 21-year-old left wing could make his NHL debut on Friday against the Winnipeg Jets.
The Penguins traded Tangradi to the Jets for a seventh round draft pick on Wednesday.
In 35 games with the Baby Pens, Bennett has seven goals and 18 assists. He was also selected to play in the AHL All-Star Classic, but could not participate because of an injury.
The Penguins selected Bennett in the first round (20th overall) in the 2010 NHL Draft.