Every now and again we hear the rumors of another "Paro" or another day in which colectivos or subtes will not be running.  This is how the public transportation in Buenos Aires makes themselves heard.  But what about those bicyclists in the city that we see?  How do they make themselves heard, if at all?
Masa Critica might be considered an event, but those who participate in it would consider it  more of a movement, in which the city gathers hundreds if not thousands of bicyclists from every barrio in Buenos Aires.  These cyclists meet twice a month for a ride through the city to take to the streets to reclaim their rights as cyclists and celebrate biking.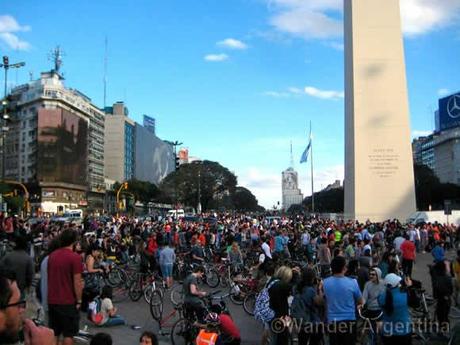 This movement originated in San Francisco in 1992 and since then has sprung up in over 300 cities all over the world including Buenos Aires, Cape Town, New York, Tokyo and Paris.
In Buenos Aires, this bimonthly ride takes place on the first Sunday of the month beginning at 4 p.m. and the full moon rides begin at 9 p.m.  You can ride your own bike, borrow a friends, or rent one of the commonly seen yellow bikes through out the city!