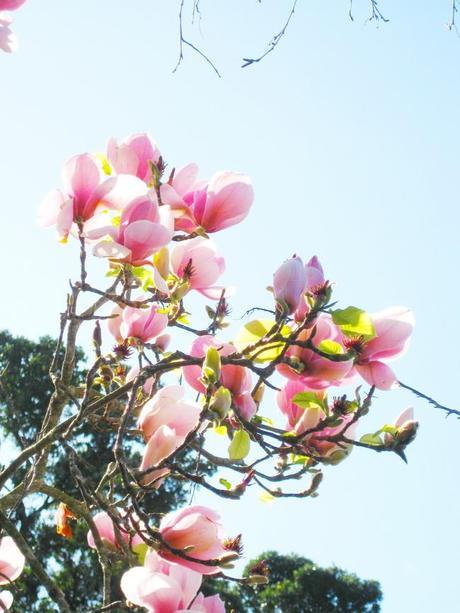 Spring is here
First tree flowers of the spring are starting to bloom. And while you are preparing for the season of golden leaves, crisp breezes and irresistible aromas of hot chocolate--I'm certainly preparing for warmer days and thinking about salads, barbecues and ice-creams.

Lots of this last one :)
But I'm also thinking about fruit salads and the kind of fruits that we enjoy the most.
Pears

or Peras

--as we called them in Spanish-- are one of the most delectable fruits to me. And whatever variety of pear is available in the season –I've always pick a large quantity of them.  I love them slice in my morning oat bran breakfast, in savory and sweet salads, topped on a slice of French bread with some walnuts and blue cheese, poached

and with

lemon syrup and fresh mint leaves

( lately, my ultimate satisfaction).

You see; I have a very special relationship with pears- as a child my grandfather used to give me a huge bag of pears (instead of candies) as a reward for been a good girl.And I remember those days as if they were yesterday.
He always used to say, I have a surprise for you!
And while I opened my eyes looking curious, my grandfather smiled at me and said;

this is for you. You've been a very good girl and if you eat these pears you will grow strong!


I remember how cheerful and enthusiastic I felt. As if a million people had just congratulated me!
We always preferred to eat them after lunch, they were juicy tender and sometimes grainy. I could never have enough of this fragrant fruit. I would love those moments back.The same feeling of childhood excitement... lunchtime with my grandparents.
Treasured moments of life.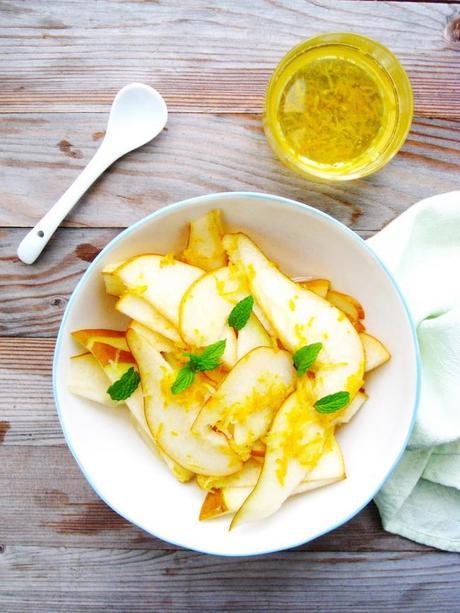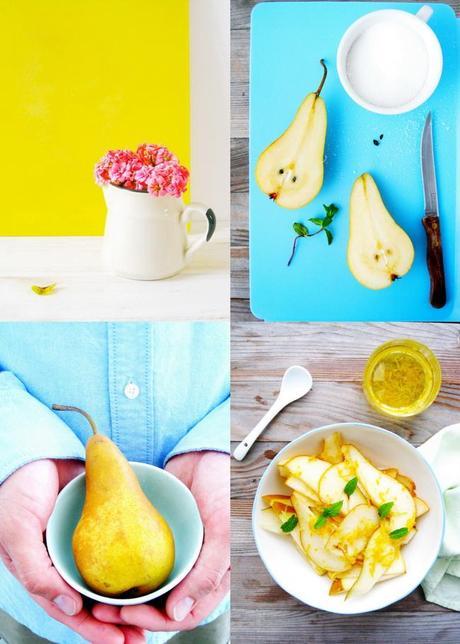 My inspiration for new ways to prepare pears came last week—After I found a gorgeous recipe of nectarine and almond salad with lemon syrup in the

June/July issue

number 20

of the

Jamie Oliver Magazine.
I immediately knew that I could implement this dessert recipe with Pears and different fruits as well. Just keeping in mind the syrup flavor and the

various fruit

that could be enhance through this citrus flavors of lemon.
Like…pears, kiwis, strawberries, pineapple, nectarines, grapes, melons and apples.
Making this syrup is a simple and quick process that put leftovers fruit to good use. And is even more tasteful with mixed pieces of various fruits.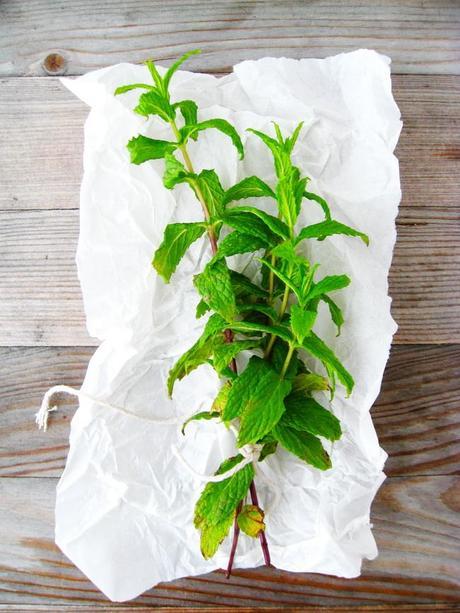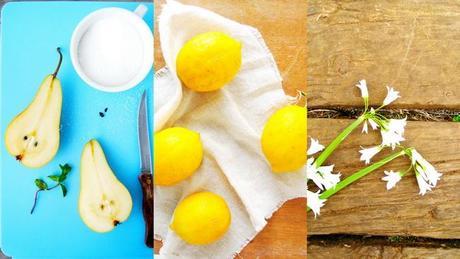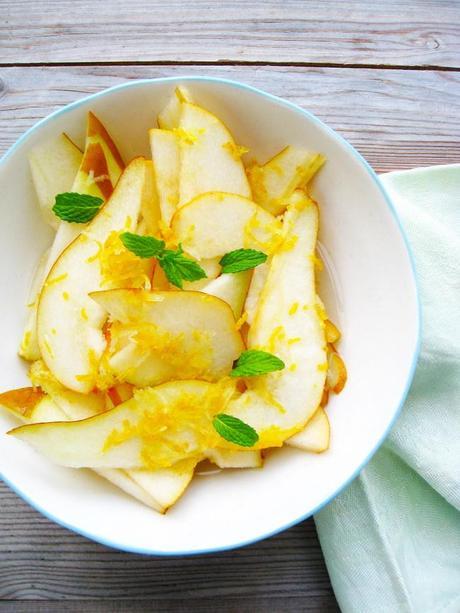 Pears with Mint Leaves and Lemon Syrup
-----------------------------------------------------------------------------
Just mix 1 cup of water with 1/2 cup sugar plus zest of 1 lemon and the juice of 1/2 lemon in a saucepan. Bring to boil and cook for a couple of minutes until sugar is dissolved and the mixture is kind of thick. 
Cut pears into slices, arrange on serving plate, drizzle with the syrup and sprinkle with mint leaves. Recipe adapted from Jamie Oliver.
It's not an elaborated super clever dessert, but it can really work wonders after dinner as a light dessert or as a little pick-me up sweet treat. This could do much more than just satisfy a sweet tooth.
Indulge with the fragrant flavors of pears, citrus and mint leaves.
I hope everyone is doing deliciously great!
Note:
This country has been under the highlights because of this.And I thought I'd share some photos of the beautiful places that I've been
recently
revisiting  around here. Hope you like it.