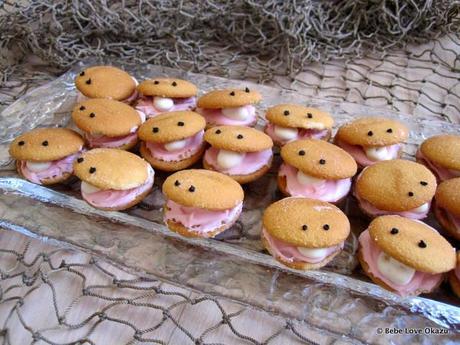 As promised in my last post, this is the second of two desserts from Bebe's little pool party with her cousins. Along with the "fish-outta-water" jello cups, Bebe and Nene had fun making these little "clams" with pearl cookies.
I saw a number of different cookies used to create the "clam shells" but I chose Nilla Waffers since they're a favorite of Bebe's. The "pearls" are yogurt covered raisins, and the inside of the clam (and "glue" that holds it all together) is vanilla frosting that I tinted with a drop of food coloring.
The assembly is pretty straightforward and the results are simply cute and fun for little ones (and perhaps older ones too). ;)
I should probably mention, however, that when I sent a picture of these clam cookies to Aya-chan and Naz, Naz thought they were mushrooms and Aya-chan asked me if clams had "eyes". Sheesh! ;)
Fortunately, Bebe and her big sis, Nene, volunteered to make these little "clam" cookies along with pretty star-shaped chewy sugar cookies (recipe available here) so my party-prep was significantly reduced. Thanks girls!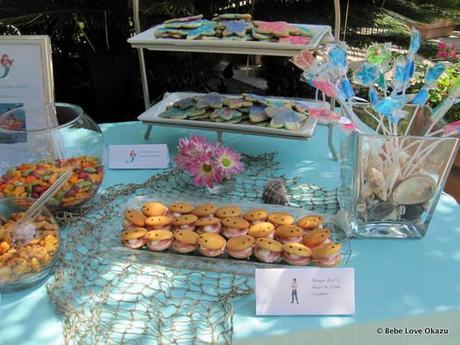 Above is a shot from our little dessert table. I went overboard on the kid to lollipop ratio, but it's a party after all and a party isn't a party unless you've got treats n' sweets for the kiddos!
Aside from our family get together, Bebe and I have been busy touring different preschool programs and we're still enjoying ballet with our friends and leisurely park play dates. Summer is half-way over, but we're still making the most of each day and trying to make this summer count.
Hope you're enjoying your summer too!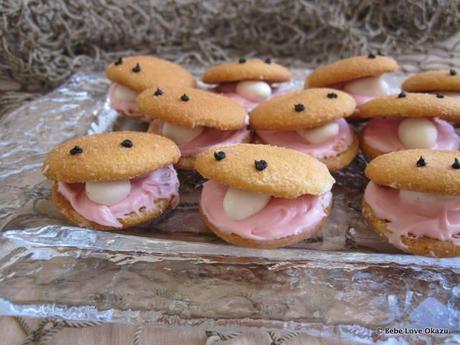 Print
Pearl in a Clam Cookies Author: 
Judy | Bebe Love Okazu
Recipe type: 
Dessert
Serves: 
20
  Ingredients
40 Nilla Waffer Cookies (clam shells)
3 tablespoons vanilla flavored frosting
1 drop of food coloring of your choice
20 yogurt covered raisins (pearls)
½ teaspoon black icing
1 plastic ziplock bag (for icing the eyes on the clams)
Instructions
On the back (flat side) of the Nilla wafer, spread small amount of frosting.
Place pearl towards the center-front of the frosted wafer.
Add just a touch of frosting on the bottom of a second Nilla wafer and attach the cookie on top of the pearl, and making sure the back of the top wafer is touching the back edge of the bottom wafer.
Set aside, allow the frosting to set.
Repeat until all "clams" are assembled. Enjoy!
3.2.1230