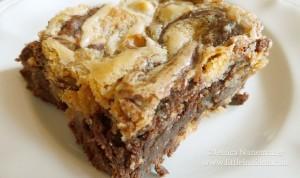 Peanut Butter Swirl Brownies Recipe
Are you ready to meet the
best brownie recipe
ever? I know, I didn't think that this one would be The Best, but believe you me, it is so soft and chewy and the perfect blend of peanut butter and chocolate that you will be amazed!
Although our oldest son decided he liked the Cookies and Cream Brownie recipe better which really surprised the rest of us! We couldn't stay out of these peanut butter brownies.
I made mine in a slightly larger pan, a 9 x 13, because I don't have the size listed. It didn't swirl as easily as it probably would have but wow these Peanut Butter Swirl Brownies are fantastic!
Peanut Butter Swirl Brownies
Print Peanut Butter Swirl Brownies Recipe
Rating: 51
Prep Time: 15 minutes
Cook Time: 35 minutes
Total Time: 50 minutes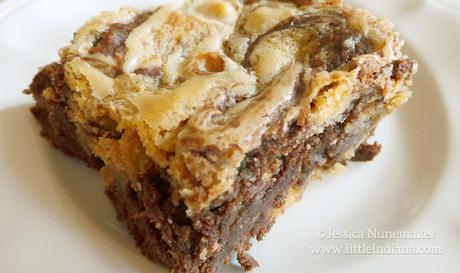 From Food.com.
Ingredients
1/2 Cup Butter or Margarine, Softened
2/3 Cup Sugar
1/2 Cup Brown Sugar, Packed
2 Eggs
2 Tablespoons Milk
3/4 Cup Flour
1/2 teaspoon Baking Powder
1/4 teaspoon Salt
1/4 Cup Creamy Peanut Butter
1/3 Cup Peanut Butter Chips
1/3 Cup Cocoa Powder
1/2 Cup Semisweet Chocolate Chips
Instructions
Cream together Butter and Sugars.
Add Eggs and Milk. Mix well.
Combine Flour, Baking Powder, and Salt.
Add to creamed mixture and mix well.
Divide batter in half.
To one half, add Peanut Butter and Peanut Butter Chips.
To the other half, add Cocoa and Chocolate Chips. Mix well.
In a greased 9" square pan, spoon the Chocolate Batter into 8 mounds in a checkboard pattern.
Next spoon in the Peanut Butter Batter in 8 mounds, between the Chocolate Batter.
With a knife, cut through the batter to swirl.
Bake 350* for 25-30 minutes or until toothpick inserted near the center comes out clean.
Cool on a wire rack.
Schema/Recipe SEO Data Markup by ZipList Recipe Plugin2.2http://littleindiana.com/2014/04/peanut-butter-swirl-brownies-recipe/Photos are the Property of little Indiana. Do Not Use Without Permission.
Small Towns: Destinations, not Drive-Thrus! I'm Jessica Nunemaker and THIS is little Indiana!
Find pictures in Indiana on my Flickr photostream or on the new little Indiana Tumblr blog.
Just don't forget to tell 'em that  little Indiana sent you!
Don't miss a moment. Subscribe to little Indiana and receive instant updates to stay on top of everything "little."
little Indiana: Where to Stay, Play, and Eat in Small Towns in Indiana. Discovering Indiana's best small towns! Now get little Indiana on your Kindle.
Targeted. Relevant. Affordable! little Indiana advertising.