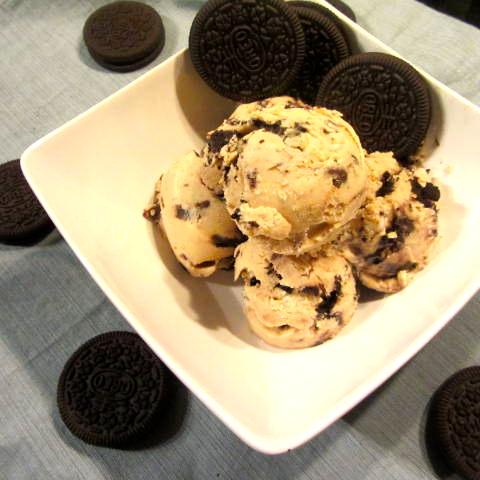 When I went dairy-free, there were two things I knew I would miss. The first? Sharp cheddar cheese. And the second? Ben and Jerry's Chubby Hubby ice cream. Never one to accept defeat, I immediately embarked on a quest to make really delish vegan ice cream. And with this recipe, my friends, I nailed it! (Still working on the sharp cheddar

).
While no Chubby Hubby, this ice cream embodies two of my favorite things–peanut butter and the all too wonderful–and vegan–Oreos! Besides the yummy flavor of peanut butter, there's the fat content and the creaminess of it, which I felt made for a wonderfully decadent ice cream, without the cream, of course. But once I had nailed the flavor combo down, there was still the issue of the "base."
I've tried making vegan ice creams with all coconut milk, with silken tofu and a wee bit of non-dairy milk, and with all almond milk. In each case, I felt like something was left to be desired. In the first case, the ice cream tastes like coconut. Fine if that's what you're going for. But if you're not, then the coconut undertones can be kind of distracting. In the second case, the ice cream was a bit too thick and had a tofu-ey flavor. And in the third case, the ice cream just wasn't rich enough for me.
In this ice cream though, I combined all three–silken tofu, coconut milk, and almond milk. Voila! The sweet spot. The Goldilocks ice cream… it was juuuuuuuuuuuuuuuuust right!

Creamy, not pasty. Rich without too much coconut flavor; evened out by the almond milk. In a word, uber delish (ok, that was two words!). Try this! Thank me later!

Peanut Butter Oreo Ice Cream
Ingredients:
1 package silken tofu (16 oz.)
3/4 cup coconut milk
1/2 cup unsweetened almond milk
1 cup peanut butter coconut spread–crunchy
1/2 teaspoon vanilla extract
1/4 cup brown sugar
pinch salt
1/4 cup chocolate chips
1/3 cup crushed Oreo cookies
Method:
*Blend all ingredients except chocolate chips and Oreos, until smooth. Refrigerate at least 30 minutes. After ~ 30 minutes re-blend for about 30 seconds and add to ice cream maker. Run ice cream maker according to manufacturer's instructions.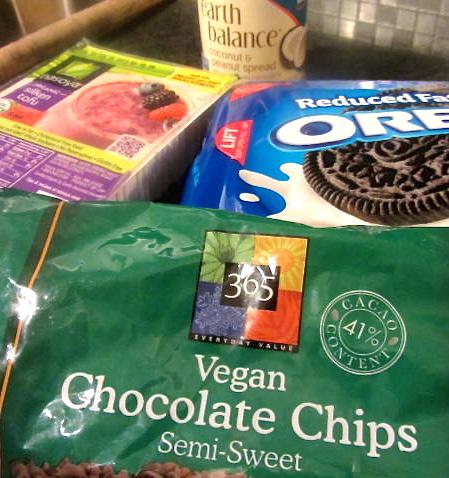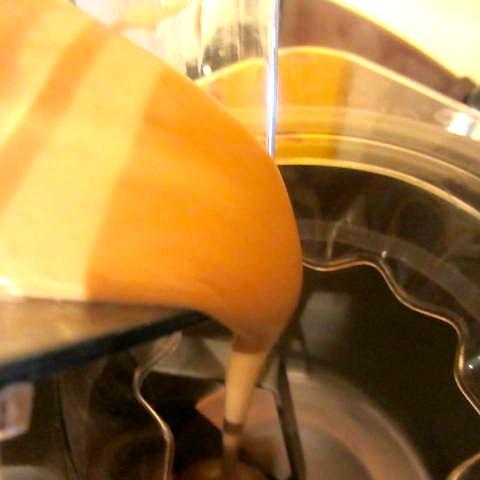 *Two to three minutes before ice cream is ready to come out of the maker (when it has the consistency of soft serve), add chocolate chips and crushed Oreos. Let the maker run for about 1 minute. Eat immediately or freeze until solid and then eat. ENJOY!