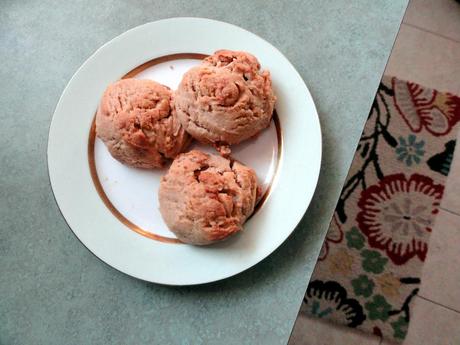 So it seems like I blinked and now half of my friends have the most precious babies.


I mean, weren't we all just in high school?




How did we suddenly become so grown up?




But I love watching these new moms and dads fawn over their little ones. Very endearing, very tempting.




Especially when I found out that my older sister is having her 4th baby in August! Goodness, I really wanted one then.




Ryan and I look definitely forward to having kids...but we also know how life-changing children can be.




Going out to Elizabeth Street Cafe for three hours on a Sunday night? Well, when you have kids, that delightful date takes a  little more planning.



When I think of babies and toddlers, I think of Cheerios. Didn't we all grow up on those nutritious round o's?
To this day, a bowl of cheerios with milk and a sliced banana can cure most ills and certainly make a homesick heart feel a lot better.


I don't know about you, but someone needs to tell General Mills to make a peanut butter version of that quintessential childhood snack. Honey Nut Cheerios are winners, but Peanut Butter Cheerios would be even better.




So while we write letters to the big cereal boss, we'll "settle" for these peanut butter cheerio cookies. Soft and crunchy, sweet and salty. Contrast is what makes good cookies great.


I adapted this recipe from one of Joanne Chang's cookie recipes in her amazing book, Flour. You won't be disappointed. With cheerios and peanut butter involved...how could you?


Peanut Butter Cheerio Cookies


1 cup unsalted butter, softened
1 cup (200 grams) granulated sugar
1 cup (220 grams) brown sugar, packed
2 large eggs
1 tsp pure vanilla extract
1 3/4 cups (455 grams) smooth peanut butter
2 2/3 cups (375 grams) all-purpose flour
1 tsp baking soda
1 tsp kosher salt


3 cups Cheerios


1. Cream together the butter and sugars on medium speed in a stand mixture fitted with the paddle for almost 5 minutes, or until light and creamy.  On medium speed, beat in eggs and vanilla until well combined, about 2 minutes.  Then beat in the peanut butter on low speed until thoroughly combined, about 2 minutes.
2. In a separate bowl whisk together the flour, baking soda and salt.  On low speed, add the dry ingredients to the butter mixture until all ingredients are just combined and dough is evenly mixed. Stir in the cheerios with a large wooden spoon.
3. Place and seal your cookie dough in an air-tight container and allow to sit in refrigerator  for at least 3 hours.
4. Preheat the oven to 350F.  Drop the cookies in 1 1/2 TBSP sized balls onto a baking sheet lined with parchment paper. 
5. Bake for 15minutes or until edges are golden brown and the center is still slightly soft.  Remove from the oven and allow to cool on sheet for 5-10 minute before moving them to a wired rack.


Enjoy with a big glass of milk!


Always,
Monet
Anecdotes and Apple Cores