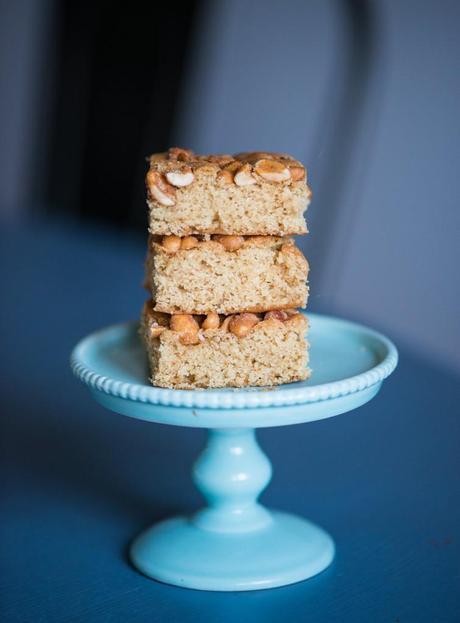 During my nineteenth year of life, I ate peanut butter blondies on a regular basis. My best friend and I had found a coffee shop downtown Denver that served up warm peanut butter blondies with scoops of vanilla ice cream. For a while, we were frequenting the Monkey Bean at least twice a week. We would say we'd split one, but inevitably, we'd polish off the first within a few minutes and then go back for a second.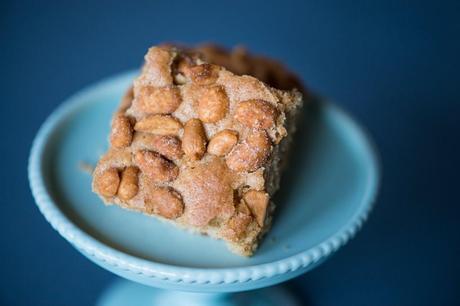 Eight years later, and sadly our beloved coffee shop is now closed. And while I still like the thought of getting served a warm peanut butter blondie on a late Friday night, I think I'd much rather spend the afternoon baking my own. My best friend and I now both have baby girls, and it's been a pleasure to see our passions change and grow. As I've mentioned a few times, we started a blog about pregnancy, birth, and parenthood called cord. You won't find peanut butter blondies, but you will find beautiful birth stories, my photo project about breastfeeding, and thoughtful articles about the journey of motherhood. So come over and visit. We'd love to see you!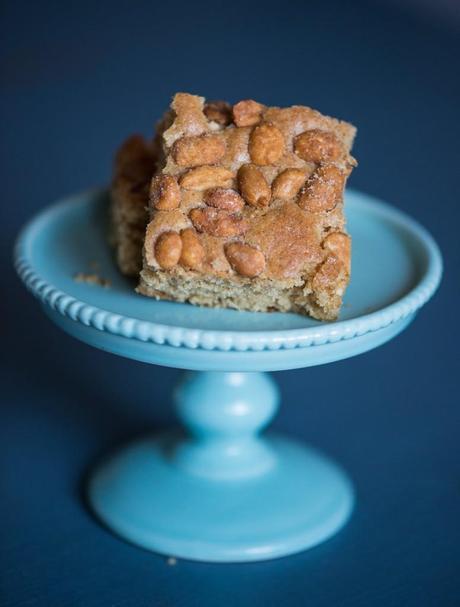 Peanut Butter Blondies
11/2 cups all-purpose flour
1 teaspoon baking powder
1/2 teaspoon salt
8 tablespoons (½ cup) unsalted butter, melted and cooled
1 1/2 cups light brown sugar
3 eggs, at room temperature
4 teaspoons vanilla extract
1/2 cup crunchy peanut butter
1/2 cup honey roasted peanuts
Preheat your oven to 350 degrees Fahrenheit and line a 13 x 9 baking pan with aluminum foil. Spray foil lightly with oil or grease with butter. Set aside.
In a medium bowl, whisk together flour, baking powder, and salt. Set aside. In a slightly larger bowl, whisk together melted butter and sugar until smooth. Stir in eggs and vanilla, beating well after each addition. Fold peanut butter into batter. Gently fold dry ingredients into wet ingredients and stir until well combined. Spread batter into prepared pan and then sprinkle generously with honey roasted peanuts. Bake for 30 to 35 minutes until only a few loose crumbs adhere to a toothpick when inserted into the center. Allow to cool completely before cutting and serving.