New to little Indiana? Subscribe for free to my RSS feed. Thanks for stopping by!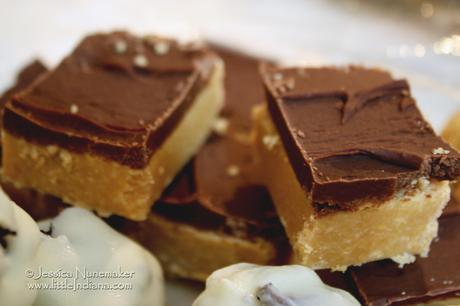 Peanut Butter Bars Recipe
When I was in high school, there was one dessert on the menu that never failed to elicit a very positive response: Kougar Kandy (or as the rest of the world would call it) Peanut Butter Bars!
My mother happened to find and make a peanut butter bars recipe that tasted like an exact match! I make it for holidays and "just because."
This recipe for Peanut Butter Bars keeps well, tastes great, mixes up so fast, and makes plenty. Go Kougars!
Peanut Butter Bars Recipe
Print Peanut Butter Bars Recipe aka Kougar Kandy
Rating: 51
Yield: 1 Pan Peanut Butter Bars
A family favorite!
Ingredients
1 Cup Butter
1 Cup Peanut Butter
3 Cups Powdered Sugar
10 Graham Crackers, Crushed
For Glaze
1 Tablespoon Peanut Butter
2 Tablespoons Butter
1 Large Package Milk Chocolate Chips
Instructions
Melt Butter and remove from heat.
Stir in Peanut Butter until melted and blended.
Add Powdered Sugar and Graham Cracker crumbs, mixing well.
Press into 9 x 13 pan.
Melt Peanut Butter, Butter,and Milk Chocolate Chips.
Spread over top of Bars.
Keep refrigerated.
Schema/Recipe SEO Data Markup by ZipList Recipe Plugin2.0
http://littleindiana.com/2013/01/peanut-butter-bars-recipe-aka-kougar-kandy/
Photos are the Property of little Indiana. Do Not Use Without Permission.
Find pictures in Indiana on my Flickr photostream or on the new little Indiana Tumblr blog.
Just don't forget to tell 'em that  little Indiana sent you!
Don't miss a moment. Subscribe to little Indiana and receive instant updates to stay on top of everything "little."
little Indiana: Where to Stay, Play, and Eat in Small Towns in Indiana. Discovering Indiana's best small towns! Now get little Indiana on your Kindle.
Targeted. Relevant. Affordable! little Indiana advertising.