0 Flares
0 Flares
×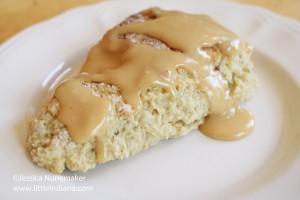 Peanut Butter Banana Scones Recipe
This Peanut Butter Banana Scones Recipe is a fun change of pace!
Just as easy to make and bake as other scone recipes, it has a really nice flavor that really hit the spot on a cool morning.
Although the Peanut Butter Banana Scones recipe instructions detail using an electric mixer, those who have made scones before can easily figure out how to make them by hand. It's up to you! From Sweet Pea's Kitchen blog.
Peanut Butter Banana Scones
Print Peanut Butter Banana Scones Recipe
Rating: 51
From A Sweet Pea's Kitchen Creation.
Ingredients
Scones
2 Cups Flour
1 Tablespoon Baking Powder
3 Tablespoons Sugar
1/2 teaspoon Salt
1/2 teaspoon Ground Cinnamon
1/8 teaspoon Ground Allspice
3 Tablespoons Dry-Roasted Peanuts, Chopped (optional)
5 Tablespoons Cold Butter, Cubed
1/2 Cup Banana, Mashed
2 Tablespoons Peanut Butter
1 Cup Heavy Cream
For the Peanut Butter Glaze:
1/3 Cup Powdered Sugar
1 Tablespoon Milk
1 Tablespoon Creamy Peanut Butter
Instructions
425* oven.
Line a baking sheet with parchment paper.
Using your electric mixer or your favorite method, stir together the Flour, Baking Powder, Sugar, Salt, Cinnamon, Allspice and Chopped Peanuts (if using).
Add the Butter and toss with a fork.
Mix on medium-low speed until the texture resembles coarse crumbs.
In a separate bowl, whisk together the banana, peanut butter and heavy cream.
Carefully combine wet ingredients into dry ingredients.
Form scones dough in a ball and press into an 8" circle.
Cut the dough into 8 wedges.
Bake on parchment-lined sheet 12 to 15 minutes or until tops of scones are light brown.
Let cool on wire rack for 10 minutes.
Meanwhile, make the peanut butter glaze.
In a small bowl, whisk together Powdered Sugar, Milk and Peanut Butter until combined.
Drizzle over cooled scones or the mixture will melt and look like the scones in my images! ;)
Schema/Recipe SEO Data Markup by ZipList Recipe Plugin2.2
http://littleindiana.com/2013/09/peanut-butter-banana-scones-recipe/
Photos are the Property of little Indiana. Do Not Use Without Permission.
Find pictures in Indiana on my Flickr photostream or on the new little Indiana Tumblr blog.
Just don't forget to tell 'em that  little Indiana sent you!
Don't miss a moment. Subscribe to little Indiana and receive instant updates to stay on top of everything "little."
little Indiana: Where to Stay, Play, and Eat in Small Towns in Indiana. Discovering Indiana's best small towns! Now get little Indiana on your Kindle.
Targeted. Relevant. Affordable! little Indiana advertising.