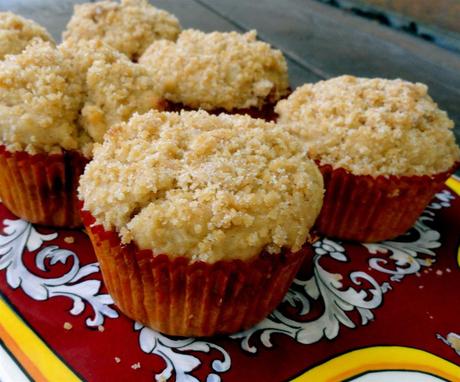 I'm approaching week four of broken elbow.
But after three weeks, I'm happy to say my left arm has risen to the occasion and met the challenge of managing my very busy life. I'm able to maneuver with far more ease than I had imagined on the night I landed on my elbow—and for once in my life, my left  arm is stronger than my right.
One-arm baking is a spectacle for anyone watching me in the kitchen. Thankfully, Cricket and Ryan are my only audience. To those that love me, my broken arm comes off as endearing. To the rest of the world? I get quite a few head shakes and children that stare.
But a broken elbow isn't too bad. Especially when you can still pull off baking a batch of these muffins.
Peanut Butter.
Jelly.
A tall glass of milk.
Comfort food in a portable breakfast snack.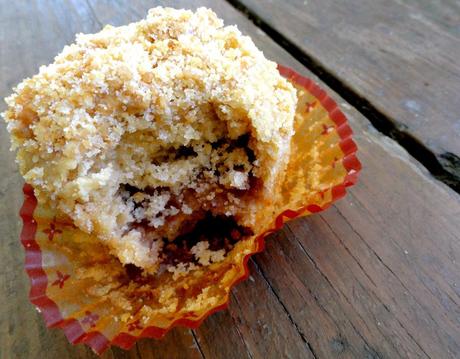 Who doesn't appreciate a peanut butter and jelly sandwich?
On days when my mornings are rushed (and believe me, we've had A LOT of those lately), I can still find time to open jars and spread a thick helping of nut and fruit on bread. And on lazy Sundays? I crave the crunch of almond butter and the sweetness of strawberry champagne jam.
These muffins are in homage of that always-comforting childhood eat. As I type at a coffee shop, two school-age children are sharing a cone of ice cream. I imagine them eating two peanut butter and jelly sandwiches just an hour earlier, the crusts cut off and a few drops of jam near the rim of the plate.
These muffins are sweet and filling. A cup of peanut butter guarantees for a substantial snack. Drops of jam are sandwiched in the middle of the peanut butter batter, making for a sweet surprise when you take your first full bite.
Even better? These muffins can be made with one arm (and a helpful husband). So no excuses! Get into the kitchen, whip up a batch, and remember the days when life was as simple as a brown paper bag.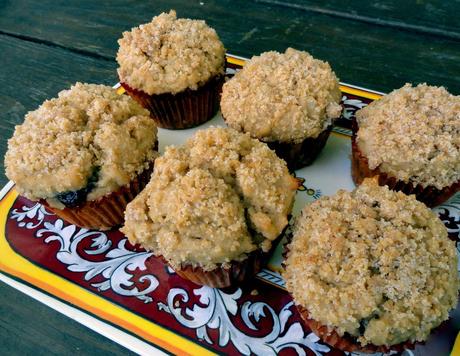 Peanut Butter and Jelly Muffins


2 cups all purpose flour
1 1/2 tsp. salt
1 tbsp. baking powder
1 cup milk
2 large eggs
2/3 cup granulated sugar
1 cup peanut butter
1/3 cup vegetable oil
1/2 cup jam or preserves


Topping:




3 TBSP flour




3 TBSP sugar




3 TBSP peanut butter




A dash of sea salt


Directions:
Preheat your oven to 375 degrees Fahrenheit.  Spray a 12-cup muffin pan with non-stick spray or line with muffin liners. Make topping by combining 3 TBSP flour, 3 TBSP sugar, 3 TBSP peanut butter and a dash of salt. Use a fork or fingers to mix until crumbly. Set aside.
Stir together flour, salt and baking powder in a large bowl.  In a separate bowl, whisk milk, eggs, sugar, peanut butter and oil. Fold wet ingredients into dry ingredients until just moistened.  Do not over mix.
Fill prepared muffin cups evenly with half of the batter.  Place 2 level teaspoons jam or preserves in the center of each muffin.  Evenly divide remaining batter between muffin cups.  Sprinkle the tops with topping (be generous!)
Bake for 18-20 minutes.  Remove from oven and cool in pan 5 minutes before enjoying with a glass of milk.


Always,




Monet




Anecdotes and Apple Cores