I remember when I was growing up how my mom hopefully bought peaches every year when they came in–only to be disappointed by green fruits that never ripened, flat flavors and a texture that was either too hard or too mealy.  Dressed up with cream or sugar, it still wasn't quite right, and for someone from Seattle, these sad excuses for fruit would have stung.  This memory feeds my suspicion that the better quality produce was sent off to other parts of the country, though Karen thinks perhaps it was just a matter of us being too geographically remote and peaches being too delicate.  (Wheat may do well in Oklahoma, but evidently not peaches).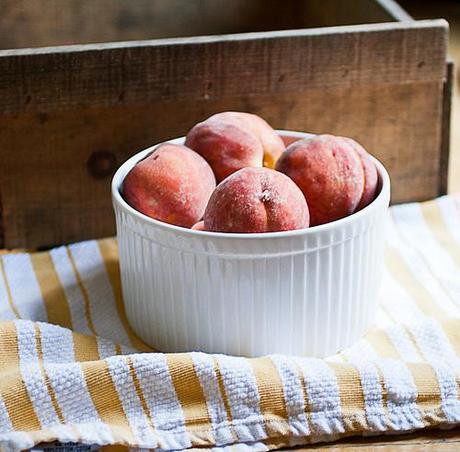 And peaches, more than some other fruit, suffer for being picked too early.  I think it's the subtle floral fragrance that never gets a chance to develop–strong flavors may not need to be coddled, but nuanced ones need nurturing.  So when one of my favorite farmer's market vendors set out their bushels of yellow peaches, I wasted no time.  So good I even remember them from last year:  tree-ripened, juicy, just enough give when pressed with a finger, instant peach gratification.   I immediately bought several pounds–some to eat now, some to make into jam for later.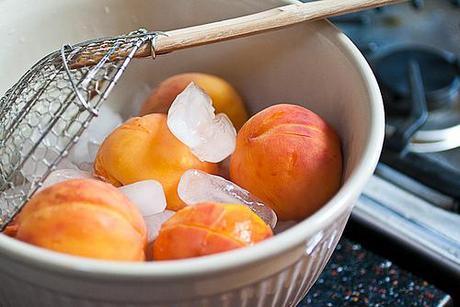 I put them directly into the fridge as there was no need to leave them out on the counter–peaches should be refrigerated only once they are ripe for best flavor.  But they were so ripe that less than 48 hours later I realized I had to do something immediately.  I also learned that there had been, as they say in the business, "inventory shrinkage"- i.e. snacking.   I estimated I only had enough for 2, maybe 3 jars of jam, and the idea of hauling out the canning equipment for that seemed like overkill.  Since jams keep several weeks (some say more) in the fridge without processing, I knew that was the solution this Monday night.
And making a small refrigerator batch, while doing nothing to prepare your pantry for the apocalypse, is in its own way liberating.  You're freer to experiment, and can be a bit more relaxed about things.   Preserving a few jars isn't a marathon of chopping fruit followed by boiling down quarts of syrupy fruit.  It's speedy work with results you can enjoy quickly.  And you can test out combinations that sound a little off the wall without too much being at stake.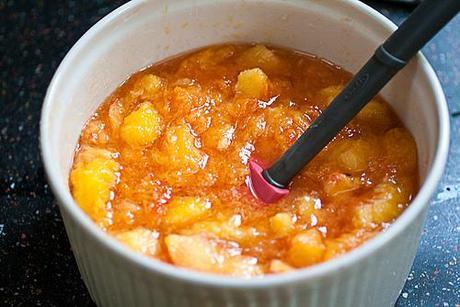 I had two ideas for my peach jam–an earl grey infused jam I saw on Bon Appetit, or one scented with lavender, inspired by a new-to-me canning book, Tart and Sweet.  I figured lavender was a safer bet, but for that reason wanted to try the tea-scented version in my mini-batch.  Being a fan of Earl Grey, though, it turned out I had none left–and barely enough lavender too.  I suppose you can say that's a sign–a sign, and also my only option.
Enough about all that–the result?  Beautiful.  That perfume that marks a truly fresh, great peach is also what makes it such an inspired partner to lavender.  Those magical flowers that color the canvas of so many impressionist paintings also make a jam that is fragrant and sophisticated.  My charming small batch may very well just be too small.
Other recipes with lavender you might like:  Lavender and Thyme Roasted Poussins, Lavender Ice Cream and Lavender Roasted Lamb,  Lavender Honey Cake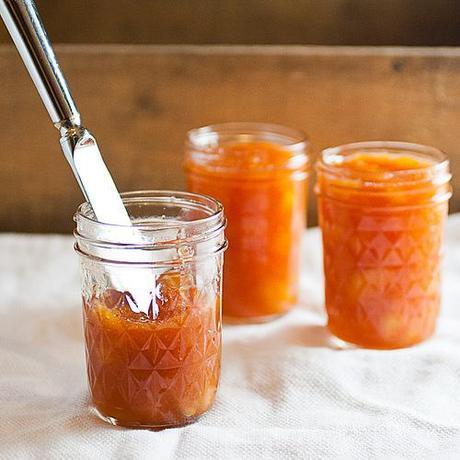 Peach Lavender Jam Print
Ingredients
2 1/2 pounds whole peaches
1 1/4c sugar
2T lemon juice
2T lavender buds
1/3c water
Instructions
Peel the peaches: bring a large pot of water to a boil. Score the base of each peach with a small x, and prepare a bowl full of ice. When the water boils, drop as many peaches in as will fit without crowding. (In my 2 quart pot, I had to run two batches). Boil for 2-3 minutes–you should see the scored skin just starting to put away. Remove each peach with a slotted spoon to the ice bath, return to a boil, and finish the remainder of the peaches. Allow to cool, and the skins should slip right off. Any stubborn spots can be carefully peeled off with a peeler–a serrated peeler works best but watch your fingers!
Place two ceramic plates or saucers in the freezer.
Chop the peeled peaches. Mine were so ripe I simply mashed them with my fingers as I pulled them from the pits–this works too.
Stir the peaches together with the sugar and allow to sit for 30 minutes. In the meantime, bring the water to a boil and stir in the lavender buds, allowing it to steep while your fruit macerates. Strain out the lavender.
Transfer the fruit to your pot, and bring to a boil. Add the lemon juice and the infused water.
Continue to cook over medium high, stirring frequently and constantly at the end to prevent burning. The bubbles will will be foamy at first and then will retreat into something more like molten lava. Because it's a small batch, this may take only 10-15 minutes. Around this time, start testing by dropping a spoonful onto the chilled plate, return to the freezer for a minute, and remove. If you can run your finger through the jam without it leaving a trail, and if no liquid seeps form the edges of your mound of jam, you are done. If not, keep cooking and testing.
Pour into glass jars and store in the refrigerator.
Notes
Because I was not water-bath canning, this recipe is not written for that purpose. If you want to water-bath can, please follow the recipe in Tart and Sweet on which this is loosely based and the safety protocols described therein.
2.2.8