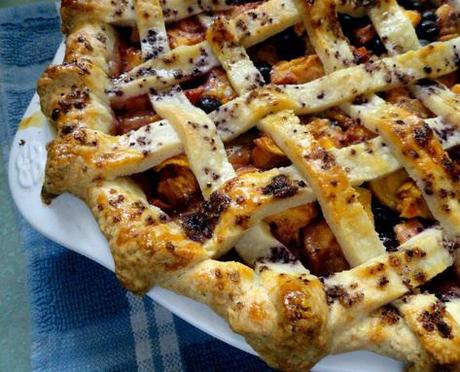 Let me begin by saying Thank You. So many of you offered me advice about brewing my own coffee at home. I'm proud to say that I enjoyed 3 cups of my own, delicious coffee this week. Granted, I did visit Wheatsville and Wholefoods the other 4 days, but I'm proud I've made a start.


Now onto even better news: my husband is home! Ryan went with his Uncle Bob to Alaska last week, leaving me and Cricket to hold down our 2nd story apartment "fort".




We baked, played, visited the Vet, and worked. Friends came over, pizza was shared, and I read two books worth remarking on:


Black Swan Green by David Mitchell
The Song of the Lark by Willa CatherYes


But each night and morning, I felt the absence of Ryan like a heavy rock on my chest. I laughed last week, but not nearly as loud as when Ryan tells one of his jokes (ask him about seagulls...it's his new favorite). I made a few delicious dinners, but not nearly as perfect as when Ryan and I finally sit down at our dining room table after chopping, sauteing and sprinkling the last dash of garlic over our plates. I walked last week, but I missed having the one person whose stride matches my own. After 5 years of togetherness, we now walk as one.




So you can imagine my delight when I picked him up from the Austin Airport on Saturday night. There he stood, with a big box of frozen fish and a full beard. I parked the jeep (illegally, of course) hopped out of the car and gave him a hug to make up for all the hugs we missed over those last 6 days.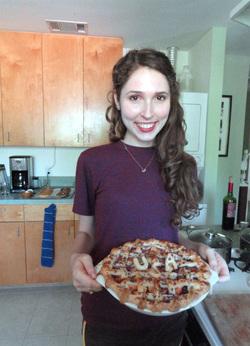 Yes...there are pie letters: USA Today, we're celebrating the 4th of July. I'm also celebrating the return of my love. We woke up this morning and baked bagels. The smell of coffee, blueberries, and freshly scrambled eggs loosened our tongues as we laughed and shared with friends. We went to Barton Springs where I finally conquered my fear of frigid water. Yes, it was cold, but Yes, I also swam 6 full laps. And shortly, after my hair dries and my stomach starts to grumble, we'll join our friends to grill one of the perfect fillets of salmon Ryan brought home with them.


And then, of course, we'll eat pie.




When Gwynne (my dear dear friend) and I sat down to write up our 4th of July plans (we're both a bit weird like that), we knew pie would be a necessary component. Although apple pie will always be my favorite, summer celebrations call for peaches, berries, the flesh of the warmest months.




This peach pie came together late last night. I talked in a pretend Southern accent as Ryan helped me boil the water, peel the skins off and slice these peaches into 1/2 inch cubes. The smell of blueberries and peaches mingled with the smell of butter and cream cheese. The three of us (Ryan, Cricket and me) were drunk off anticipation of our first full slice of summer goodness.




So I hope you all are enjoying time with friends and family. We'll be sitting around, eating salmon and slices of pie. For those of you, who have never baked a lattice pie...give this a try on a Saturday evening

when you don't have much to do. Although it seems complicated, the process is rather simple, and the reward of your labor will be both in taste and in the delighted "Oohs" of your friends.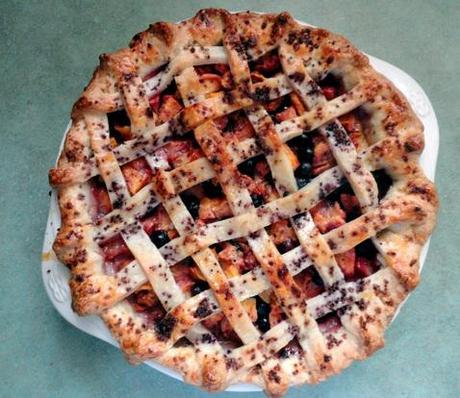 Peach and Blueberry Pie


Your favorite double pie crust recipe, shaped into two discs and refrigerated for at least 30 minutes. 
2 1/2 pounds ripe peaches


1 pint blueberries


1 tablespoon fresh lemon juice
1 tablespoon pure vanilla extract
Generous sprinkle of cinnamon
1/2 cup sugar
5 tablespoons flour
1 egg
2 tablespoons course sugar (I used a wonderful blueberry cane sugar I purchased at Whole Foods)
1.  Remove one disc of dough and allow to sit on counter for 5 minutes, or until soft enough to roll.  Generously flour your working surface and roll into an 11-12 inch round.  Carefully lift the dough and place it into your pie plate (I always use my rolling pin to help me along...I gently and loosely roll the disc around my pin and then unroll it in then pan.  Press the dough into the pie plate and trim the edges, leaving about a 1 inch overhang.  Place the pan in the freezer while you prepare the filling and the lattice. 
2.  Line a baking sheet with wax paper. Remove the other dough disk from the refrigerator and roll it out to a 12 x 8 inch rectangle.  Using a ruler, cut 10, one-inch strips and transfer the strips and baking strip to the freezer. 
3.  Bring a large pot of water to boil. Using a paring knife cut an X in the bottom of each peach before placing them in the water.   Allow to boil for one minute before removing to a bowl of cold ice water. Slip off the skins when they are cool enough to handle. Cut the peaches into wedges, place them in a large bowl, sprinkle with the lemon juice and toss to mix. Sprinkle the berries on top. Add the sugar, vanilla, cinnamon and flour and stir to combine.  Allow the fruit mixture to sit a few minutes and then drain in a colander. 
4.  Pour your filling into you prepared pie pan.  Remove strips from refrigerator and carefully lay 5 parallel strips across the top of the pie.  Weave the remaining strips through horizontally.  Trim the strips and crimp into the crust of the pie with your fingers. Brush your pie crust with the egg and sprinkle with sugar.
5.  Place the pie on a baking sheet and bake for 50 minutes in a 375° oven or until the crust is golden brown and the juices are bubbling. If the lattice is getting too brown tent it with aluminum foil about half way through the baking. Let the pie cool to slightly warm or room temperature on a wire rack before slicing and serving with vanilla ice cream.
Always,
Monet
Anecdotes and Apple Cores