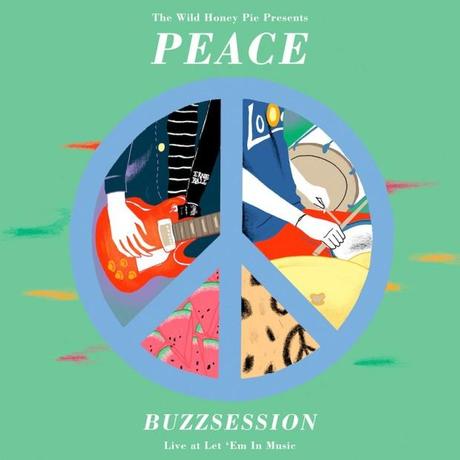 About
I few months back, I was in Los Angeles and met with a dude named Jason Kramer. Jason is a DJ over at KCRW, one of the most amazing radio stations in the world, so when he suggests a band, my ears do some major perking up. During our meeting, he wouldn't shut up about a UK band called Peace, a band he insisted I needed to check out.  Low and behold, when I spent some time with their music, I became obsessed.  Their debut EP, released by Columbia Records, is one of the catchiest things I've heard in a while so I'm sure you could imagine my excitement when they got in touch with us about doing a Buzzsession. During their most recent trip to New York City, we had them join us at Let 'Em In Music in Brooklyn where they recorded two songs, both of which you can stream here. Enjoy the audio recordings and watch our Buzzsession video of "California Daze" below.
'Buzzsessions' is a live session series made by The Wild Honey Pie.  With each new episode, we travel with a different band to a different part of New York City and record sometimes-intimate/sometimes-wild versions of two or three songs.  This Buzzsession was shot at Let 'Em In Music in Brooklyn.  Interested in booking time there?  Click here.
Support The Wild Honey Pie by clicking the "like" button below.
Watch
Listen/Download
Crew
PRODUCER/VIDEOGRAPHER Eric Weiner
EDITOR Nick Noyes
ENGINEER/SOUND Nadim Issa
Comment