Skip the fancy service and forget romantic ocean views – it's all about the food! That's why I absolutely love street food. It's real, non-pretentious and affordable grub that's portable! So you can guarantee that I dashed down to DOV's Street Food City by the Vancouver Art Gallery! Unfortunately, hippoCHAN was too busy to tag along… so I had to eat both our shares.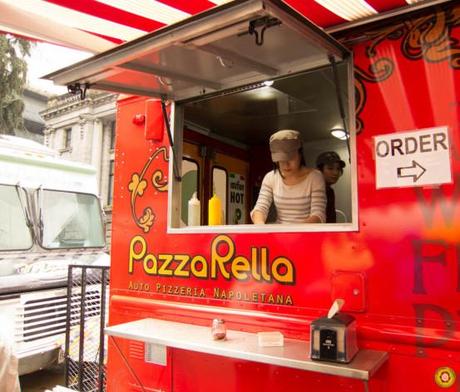 After weaving through the dozen or so food carts, I decided to get an "appetizer" from PazzaRella. How they serve wood fired pizza out of a truck just astounds me.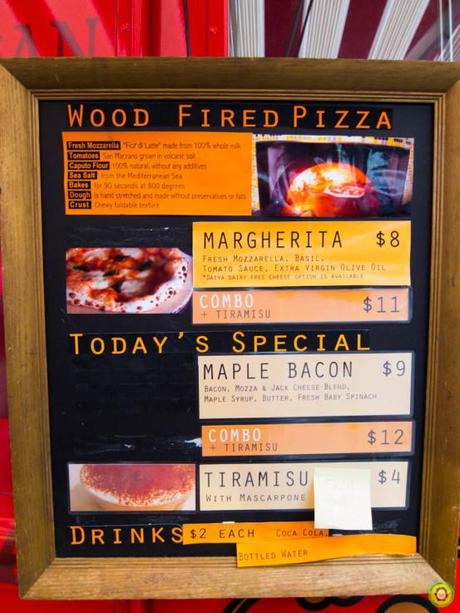 Made with 100% natural caputo flour from Naples, their doughs are hand stretched to order and made without preservatives or fat. After the pizza is all dressed up with toppings, they're baked for 90s at a super high 800 degrees. From the time I ordered, it took less than 10 minutes for my Margherita Pizza ($8) to finish.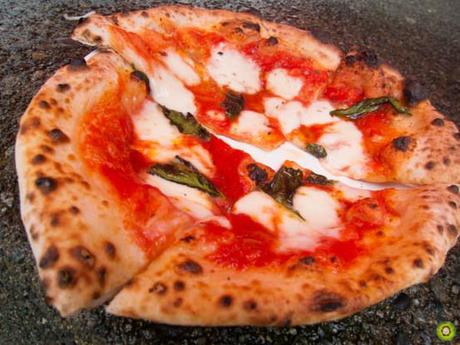 The simplicity of this pizza was really great because it allowed for the ingredients to shine. The fresh mozzarella was very stretchy, gooey and mild in flavor. The tomato sauce had a slight tang, and was incredibly fresh.
My favorite part though, was the dough! It was slim, chewy and had an incredible charred flavour!
PazzaRella also sells Tiramisu that can be combo'd with pizza, but they were sold out that day :(
Final Bytes
1.  There's a dairy-free cheese option!
2.  Special pizzas daily!
3.  Cash only :(
Foodobyte's Rating

---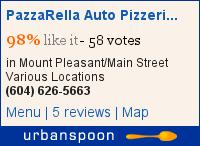 PazzaRella's current location can be found on their Facebook Page!