The first thing Paul Ryan, who was Mitt Romney's VP runningmate in 2012, did after becoming Speaker of the House last December was to cave in to everything that Obama wants. See " Betrayal: GOP funds Planned Parenthood, Syrian 'refugees' and amnesty for illegals ".
After Donald Trump won last week's Indiana GOP primaries and became the party's presumptive nominee, Ryan said he would not endorse Trump.
Trump fired back, saying he would be "very quick" to remove Ryan as chairman of the upcoming Republican National Convention, for how can the chair of the convention oppose the individual whom the convention would nominate?
But it appears in the Trump-Ryan contest, the latter has blinked.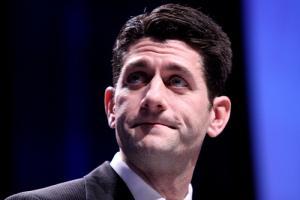 Gabby Morrongielo reports for the Washington Examiner, May 9, 2016:
House Speaker Paul Ryan would reportedly be willing to resign as chairman of the upcoming Republican National Convention should Donald Trump, the party's presumptive presidential nominee, ask him to do so.

During a meeting Monday with Milwaukee Journal Sentinel reporters in his hometown of Janesville, Wis., Ryan reportedly said he would do "whatever" Trump wants when it comes to convention planning since he is the de facto nominee.

"He's the nominee. I'll do whatever he wants with respect to the convention," Ryan told the paper. [...]

Ryan also rejected former Alaska Gov. Sarah Palin's recent claim that his refusal to endorse Trump is linked to future presidential ambitions.

"I would not have become Speaker of the House if I had 2020 aspirations," he told the Journal-Sentinel. "I could have run in 2012 and 2016. The Speaker is not exactly a good stepping stone for president."

"I think people who know me know that is not my aspiration ," he added.
[Really? Hey, Ryan, how do you explain the fact that this January 31, you and Romney filed Form 1 with the Federal Election Commission, indicating your intention to run for the presidency? See " It's deja vu all over again: Romney-Ryan filed intention to run for presidency with FEC "]
According to Schneider, Ryan also said he completely opposes efforts by party elders to put forth a conservative, third-party alternative to Trump. His comments come just minutes after Weekly Standard editor Bill Kristol told CNN there's a "50-50" chance he and his cohorts will convince someone to launch an independent bid.

A spokesperson for Ryan could not be reached for comment.
reported that Kristol is courting Romney and that on May 6, 2016, the two met privately to discuss the possibility of launching an independent bid, potentially with Romney as its standard-bearer.