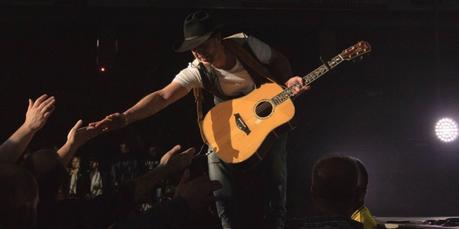 Paul Brandt's Hall of Fame journey continues with High Valley, Jess Moskaluke and Hunter Brothers
For nearly 25 years, Paul Brandt has been a model of consistency and quality in Canadian country music. And on Tuesday night, the five-time CCMA Male Artist of the Year and Hall of Fame member brought the Journey Tour to Oshawa to remind everyone that he's still at the top of his game.
Along with fellow Canadian artists, High Valley, Jess Moskaluke, and Hunter Brothers, Brandt put on a show that entertained from start to finish, shared hits and fan favourites, and made it easy to forget it was a cold weeknight in southern Ontario. In the front rows of the pit and the back rows of the Tribute Communities Centre seats, country music fans sang along, clapped, and danced to the songs they know and love. And when special moments hit them, they responded with excitement, energy, and love.
Hunter Brothers were the first on stage to start the show, and the five farm boys from Shaunavon, Saskatchewan didn't waste a single second of their short time in front of the crowd. Their sibling harmonies rang through the arena, their smiles were as bright as the lights behind them, and their energy (second only to those harmonies as a calling card) was at peak levels immediately.
Hits, Lost and Born And Raised bookended the Hunter Brothers' set, with the boys jumping up and down, moving all over the stage, and making themselves at home. Already five-time nominees at the Canadian Country Music Association awards, these music-making men from the prairies are well on their way to big things in their career. And while the group only had a four-song set to share with the Oshawa crowd, they were far from done on the night.
Another Saskatchewan tour-de-force came next when Langenburg's three-time CCMA Female Artist of the Year, Jess Moskaluke and her band played for the country music crowd in front of them. The set kicked off with Drive Me Away and roared from there. Moskaluke was able to squeeze in eight songs in her time on stage, but like Hunter Brothers, would be back later on.
As she strutted and sang all over the stage, Jess Moskaluke owned the audience. It was clear that they all knew the music, and they showed her just how much they've been listening to her career. And when she got to Cheap Wine And Cigarettes to end the set, they got louder than they'd been at any point in the night so far. It was a great moment, watching an artist that continues to move forward in her career, earning another Juno nomination for Country Album of the Year, and holding her place in the upper echelon of female country talent in Canada.
Nights like Tuesday serve as a reminder of what Jess Moskaluke has already done, and whets our appetite for what she'll do in the future. We'd bet on big things.
This slideshow requires JavaScript.
After a short break and stage changeover, the temperature in the arena seemed to rise when La Crete, Alberta brothers, and stars on both sides of the border, High Valley took over in Oshawa.
Brad and Curtis Rempel were shown love immediately, with the crowd singing along and dancing from the front to the back. And after years of seeing the boys on various stages, we feel confident in telling you that their audience continues to grow in size and strength every time they come back to Canada to play.
High Valley played a 12-song set, including a catchy bluegrass medley of I Saw The Light, I'll Fly Away, and Shut Up And Dance that captured our imagination and proved that music is cross-generational, malleable, and fun. With massive radio hits like Come On Down, Dear Life, Make You Mine, and their first #1 single, I Be U Be, in their set, there were no misses. Every swing they took was a home run, every song they sang had the crowd engaged, and every smile and wave found its mark.
Note: High Valley also played a brand new song in their set called Single Man. The duo told the Oshawa crowd that the song has been pegged as their next single and that a video crew was shooting footage for the music video during the Tuesday night show. It's another solid track from Brad and Curtis, adding their own sibling harmonies to the sound that has become their signature. Be ready for it at country radio sometime soon.
It's been more than 10 years since High Valley debuted at country radio, but they show no signs and have no plans to slow down. The next time you have a chance to see them, take it. And be ready to dance.
This slideshow requires JavaScript.
After three entertaining and talented sets, it was time for the main event as Paul Brandt came to the stage at the Tribute Communities Centre in Oshawa!
The Calgary star, hall of famer, hit-maker, and modern Canadian country legend brought new songs and his original hits to the Tuesday night crowd, along with stories, special moments, and surprises. Hunter Brothers, Jess Moskaluke, and High Valley all came back out to sing with Brandt, getting great pops from the audience and adding to the entertainment value of the show.
But at the heart of it, this was Paul Brandt's set and show. From the moment he walked onto the stage, carrying his guitar case, there was no denying the star power he continues to hold.
In his 16-song set, we heard songs dating all the way back to 1996 with My Heart Has A History (the most played Canadian country song of all-time), and his first #1 single, I Do. We heard new songs including The Journey and Bittersweet. And we got a taste of everything in between, and everything we were looking forward to.
Note: We're not going to spoil anything, but be ready for some Houdini-style magic in the set before one of the guest appearances. It was awesome.
We've talked in the past about the importance and impact of moments in live music. There are big, macro-moments like confetti and surprises and special guests. And there are smaller, micro-moments that are more likely to be personal to each of us, triggering a memory, the thought of a loved one, or forging a personal connection we weren't expecting.
During Paul Brandt's set on Tuesday night, I was hit with a number of those small moments. Early in the set, when Brandt sang My Heart Has A History, I was instantly 14 years old again, watching the video on CMT and becoming a fan of the new country artist. When he preceded Small Towns And Big Dreams with the story of doubting himself and his path, feeling anxious about what would come after the early success in his career, I felt an understanding and kinship. When he sang a verse and chorus of Amazing Grace with Hunter Brothers, I was hit with memories of my grandmother, and thoughts of my mom. And when Paul Brandt sang I Do, I was in the present, thinking about my fiancee and how lucky I am. Those moments may have connected with every single person in the room, or maybe they didn't. Perhaps there were other small moments that had big impacts on people in the crowd. I imagine there were. But I do know that Paul Brandt got me in the best way that live music can.
Brandt took changes to make things special for everyone that he could. He moved to the back of the arena floor and played songs on a small riser, closer to the fans in the seats furthest from the main stage. He smiled and waved often. He reached out to touch the hands of fans that had been waiting all night for him in the front row.
More than anything though, from the start of his set to the very end of his Walk The Line medley with all of the openers, Paul Brandt proved to be a premier entertainer. 25 years in, with loads of experiences, ups and downs, and heaps of success, Brandt is the benchmark. He is the high water mark. And we'll continue to follow him on his journey.
This slideshow requires JavaScript.
The Journey Tour Setlists, Oshawa
Hunter Brothers
🚍 Lost
🚍 Those Were The Nights
🚍 When You Love A Girl
🚍 Born And Raised
Jess Moskaluke
🚍 Drive Me Away
🚍 Kiss Me Quiet
🚍 Save Some Of That Whiskey
🚍 Nothing Holding Me Back (cover)
🚍 Camouflage
🚍 Halfway Home
🚍 Take Me Home
🚍 Cheap Wine & Cigarettes
High Valley
🚍 County Line
🚍 Come On Down
🚍 Dear Life
🚍 Love You For A Long Time
🚍 Be My Baby Tonight (cover)
🚍 Chatahoochie (cover)
🚍 Single Man
🚍 Young Forever
🚍 I Saw The Light/ I'll Fly Away/ Shut Up And Dance (bluegrass medley)
🚍 Make You Mine
🚍 She's With Me
🚍 I Be U Be
Paul Brandt
🚍 The Journey
🚍 Bittersweet
🚍 All About Her
🚍 My Heart Has A History
🚍 I'm Gonna Fly
🚍 When You Call My Name (with High Valley)
🚍 Small Town And Big Dreams
🚍 Life's Railway To Heaven (cover)(with Hunter Brothers)
🚍 Amazing Grace (cover)(with Hunter Brothers)
🚍 YYC BNA
🚍 I Do
🚍 Open Road (with Jess Moskaluke)
🚍 Leavin' / Didn't Even See The Dust / Alberta Bound
ENCORE
🚍 Thank You, Thank You
🚍 Convoy (with Hunter Brothers)
🚍 I Walk The Line (cover)(with Jess Moskaluke, Hunter Brothers, and High Valley)