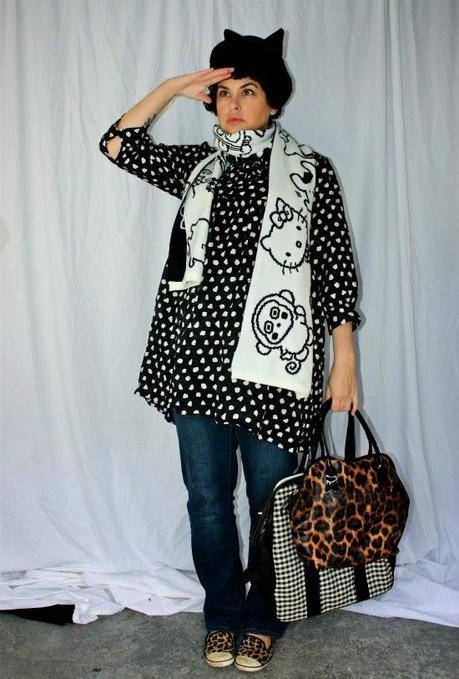 I Spy: Mixing in the Feline in a Bee-line for Spy Girl's 52 Pick-Me-Up
I know what you're thinking: how does she make it look so damn easy? When it comes to print mixing, I'm a veritable idiot savant, yeah?
 You're probably also wondering why I don't wear jeans more often. I am a DRESS GIRL, and really don't like wearing pants. I find them sloppy looking, and uncomfortable. But today, I was prompted to pull on a pair of Denizen by Levis because my silk dress is so short, and it is Seattle cold! I needed a layer, and I wanted to get outside my comfort zone so to speak. I really liked the way the jeans fit, and wore them the next day as well. The shoes, well, they are my favorite sneaks, are always on, whenever I'm home- think a Mr. Roger's cardi for the feet. The bags, are a mix of vintage and new. I love them both, but am putting them both up for sale. Here's to them finding a good home!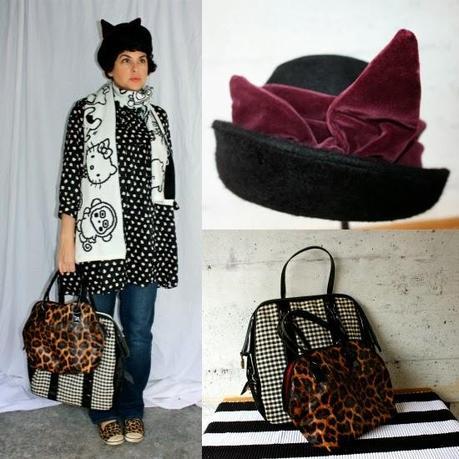 #SECONDHANDFIRST: 99% Thrifted. 100% Playful.
Now Wearing: 
vintage fuzzy wool hat with plummy velvet bow, $10, buy it HERE
new Sanrio reversible scarf, Goodwill
silk dotted dress, Buffalo Exchange
Denizen jeans by Levis, thrifted
new Elizabeth Arden tote bag, $12, buy it HERE
vintage gingham travel tote bag, listing soon!
Linking to the fabulous Spy Girl for 52 Pick-Me-Up