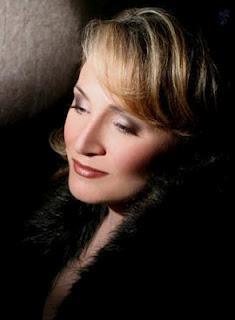 "Would you be interested in attending a live recording session for a cabaret album Patricia Racette is doing?" is a question admitting of only one answer. And so, Gentle Readers, I found myself yesterday at the studio of GPR Records, in an atmosphere fizzing with champagne and cheerful anticipation. Eventually, we settled ourselves, obediently applauded for sound technicians, and then Craig Terry took his place at the Bechstein, and Racette entered and took possession of the room. The contrast with the physical space of the Met could hardly have been more dramatic (the diva flattened herself against the piano in mock alarm) and the smoky smolder Racette brought to the evening's program was a far cry from her Tosca. But it turns out the soprano has a voice for Piaf, as well as Puccini, and she sang the cabaret program with the same emotional directness that has won me over in the opera house. The evening was opened with an energetic medley of "Get Happy" and "I got Rhythm," filled with a joy mirrored in audience cheers when Racette sang "I got rhythm / I got music / I got my gal..." The follow-up of "Here's that Rainy Day" was given with an unrestrained tenderness pointed up by pianistic melancholy.  Racette performed Vernon Duke's "Not a Care in the World" with exuberant flair for jazzy syncopations. With the smoky sensuality of "Angel Eyes," we were all drawn into the painful aftermath of a relationship's disintegration. Necessary respite was accorded as Racette invited us to laugh with her as she sang "I'm calm (I'm calm, I'm perfectly calm.)"
Brave is the woman who undertakes to sing songs created by Edith Piaf. Racette not only sang them, but took ownership of them, and of her audience. "Milord" was given with a saucy lilt, transitioning into a fearlessly sensual "Padam." "La vie en rose" was sweet-toned, and unabashedly radiant. "The Man That Got Away" was paired with the deliciously tongue-in-cheek "To Keep my Love Alive." Racette and Terry next gave us an arrangement, devised by Terry, of "Come Rain Or Come Shine," with the piano part based on Bach's Prelude No. 1 in C Major. Racette sang with the radiant confidence and the shattering vulnerability of desire--of love--and I cried so hard I had to take my glasses off. Well, Gentle Readers, you already knew I was sentimental. Rodgers & Hart's lovely "Where or When" was next, followed by a medley of soul-crushing ballads. "I like singing sad songs!" said Racette, by way of introduction; as she pointed out, this is a distinct asset given an operatic repertoire which assigns her a variety of suicides "and death by that good old-fashioned soprano-killer, TB." With remarkable attention to text, she gave us an unflinching examination of hope lost and found in "You've Changed," "Guess Who I Saw Today," "Where Do You Start?" and Cole Porter's "So in Love." We were all still a little emotionally shell-shocked (well, I was, anyway) when Racette segued into her next offering: Piaf's "Mon Dieu." And she got it. And I was completely wrecked. (Did I mention that I love Edith Piaf?) Racette closed with Sondheim's "Not a Day Goes By." No, it's hardly an emotional restorative, but she had us in the palm of her hand and wanting more.
The album resulting from this week's sessions is available for pre-order here.