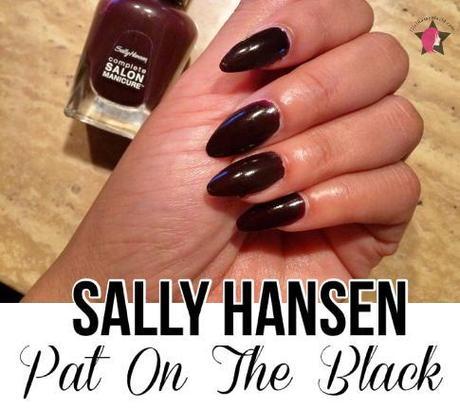 This is Sally Hansen Pat On The Black shade from the Complete Salon Manicure collection. It's a very deep and creamy plum color that looks almost black – hence the name.
Sally Hansen Pat On The Black is an amazing shade for the fall and winter seasons. The polish is very opaque so you don't need a ton of coats to get a good finish. In the picture above I am wearing two coats of the nail polish.
I think this nail polish is beautiful. But I think it looks better on lighter skin tones. Sally Hansen Pat On The Black is not the type of shade I would buy often. Not because I don't like them… I just don't think they flatter my skin tone. This was my Thanksgiving Day manicure!


The complete manicure collection by Sally Hansen is a one-step nail polish. It contains a base coat, color and top coat all-in-one. They are typically very pigmented. Two coats will do the trick and you don't have to concern yourself with applying a top coat or base coat.
You can pick up this gorgeous, rich shade at your local drugstore or on amazon. It retails for about $8.99. Until we meet again my friends, don't forget to follow me on social media. Find me on facebook, YouTube, and Twitter.