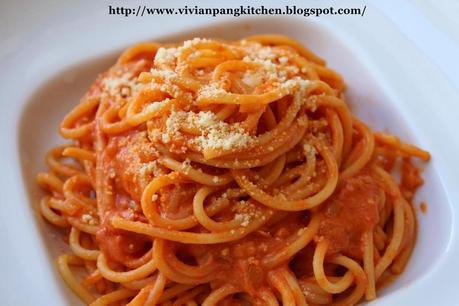 Tomatoes make me think of pasta sauce. My kids like spaghetti with tomato base sauce. I used to cook with fresh tomatoes but not today. After reading

The Pioneer Woman
Tomato Cream Sauce I want to give it a try. I used canned tomato purée. It is cheap, economy and easy available at any grocery stores. This canned tomato is packed with flavor. However it is extremely sour to Asian taste (I believe :P). Therefore I added water/stock (liquid) to thinner out the sourness.
For healthy choice (and also easy available) I replace heavy cream with evaporated milk. The result is great and my kids love it! This great cream tomato sauce will be one of my family favorite pasta meals from now on :)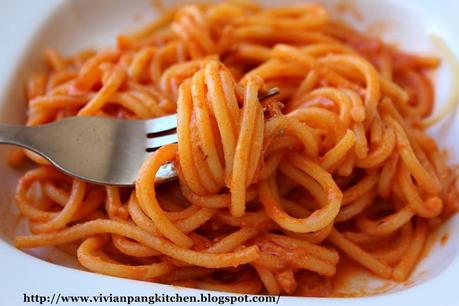 Reference from
The Pioneer Woman
Pasta Tomato Cream Sauce


Ingredients:




(A)




1 tablespoon vegetable oil




1 tablespoon butter




1 whole medium onion, finely diced




4 cloves garlic, minced




1 can (220g) tomato purée (I used DuChef brand)




1 cup water (or stock)




½ cube chicken stock (Knorr brand)




*Omit if using stock.
Salt and pepper, to taste
2 tablespoons sugar (more to taste)
(B)
½ cup evaporated milk
1 tablespoon dried oregano
10g parmesan cheese
400g spaghetti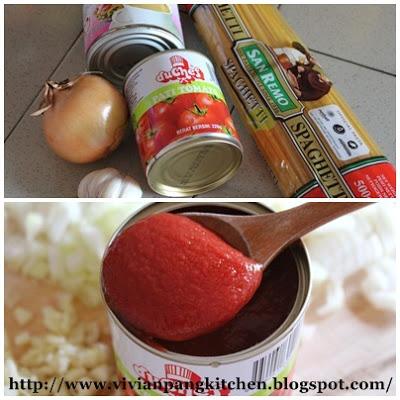 Methods:
1. Cook pasta according to package directions. Drain, reserve ½ cup of pasta water.
2. Heat butter and oil over medium heat. Add onion and garlic and sauté for a minute or so. Pour in tomato purée and add water, stock cube, salt, pepper, and sugar to taste. Stir and cook over low heat for 10 to 15 minutes, stirring occasionally.

3. Remove from heat and stir in milk, oregano and cheese. Check seasonings.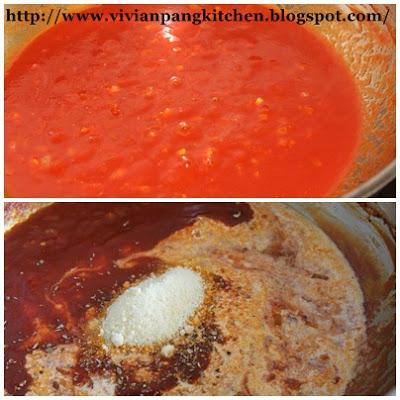 4. Stir in pasta and serve immediately. (Thin with pasta water if needed.)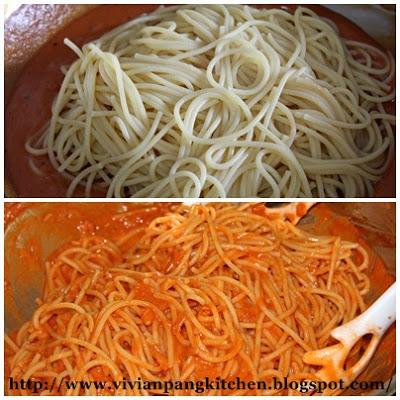 I am submitting this post to 
~ 

Made with Love Mondays hosted byJavelin Warrior's Cookin w/ 

Luv
~ Little Thumbs Up, hosted by Mui

[email protected]

Little Favourite DIY &

[email protected]

for Happy Kids.