They say eat with your eyes first !
Pasta salad is a dish prepared with one or more types of Pasta. It is basically served cold. 
Perfect as a snack or an appetizer. 
An excellent side-dish for your kitty parties. It is a hit !!!
Simple, easy & yummy- that's what I call it...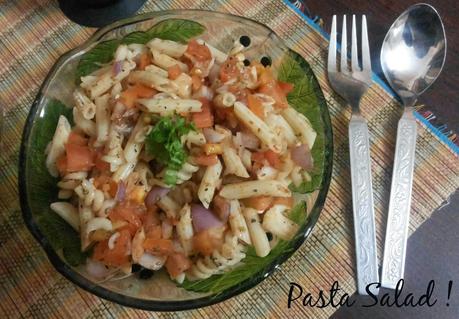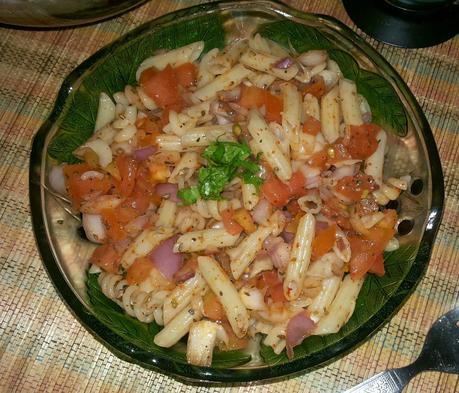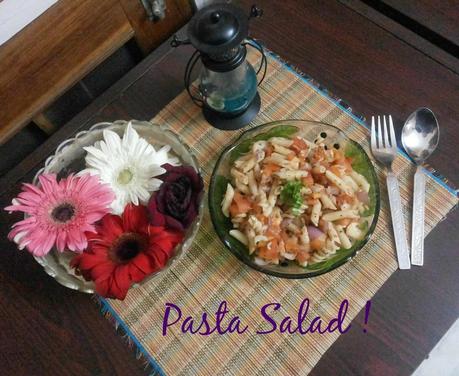 Serves : 2-4 persons
Preparation time : 10-15 minutes
Cooking time : 10 minutes
With basic ingredients at home, you can make it any time. Blend it with your choice of veggies or with your taste of dressing. 
Pasta salad is made in numerous ways but the easiest way is what I am gonna show. Stay Tuned !
Ingredients :
Pasta : 1 cup ( I have used Penne) 
Tomatoes : 2 medium 
Onions : 2 medium 
Olive Oil : 1 tsp
Black Pepper powder : 1/2 tsp
Salt : to taste
Lemon juice : 1/2 tsp
Herbs :
Oregano : 1 tsp
Mixed herbs : 1/2 tsp
Notes :
# Add more veggies of your choice. Brocolli, cucumber goes really well. 
# Add olives. Black or green 
Method :
1. Boiling the pasta : Take a wide pan. Bring plenty of water to boil, add salt (a pinch) and oil (1/2 tsp). Then slowly add the pasta and cook it till al dente (Pasta should be cooked until it's tender but slightly firm to the bite). Stir in between to prevent the pasta from sticking together.  After it is cooked, drain it in a colander and pour cold water on it. This is done to prevent it from getting cooked further. Mix another 1/2 tsp oil to it and keep it aside.
2.Wash and finely chop the tomatoes and onions. 
3.  In a large mixing bowl, take pasta. 
4. Add chopped tomatoes and onions. Add salt, pepper, olives, lemon juice and all the herbs.
5. Drizzle a little amount of olive oil. Toss it well.
6. Serve immediately !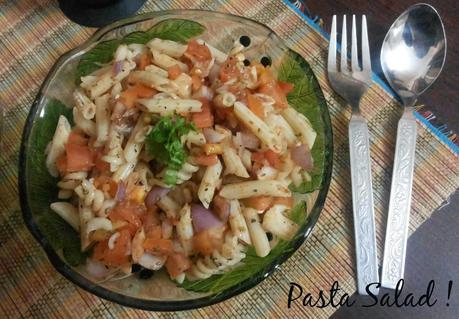 More pasta recipes : 
Pasta in Red Sauce , Pasta in white creamy cheesy sauce :) 
Enjoy !!!