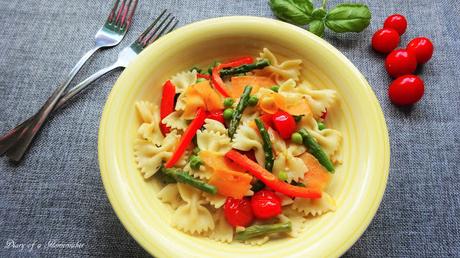 I love all things spring, the fresh smell of nature, the chirping of birds and the promise of sunshine are just a few things that make me love this time of the year. Comes spring and it's celebration time in my house and how would you expect a food blogger to celebrate? You guessed it right... I celebrate spring by preparing dishes made with seasonal ingredients.
These days the market scene is pimped up with vibrantly coloured fruits and vegetables. Seasonal vegetables should be consumed more often to reap their full benefits. I don't seem to find some of my favorite things here in the UK e.g. zucchini flowers which I remember stuffing and frying.
There is one vegetable that I make sure to include in my weekly menu and that is asparagus. Apart from including it in some other recipes I always use it in my favorite pasta dish which is Pasta Primavera. I love the combination of vegetables in this pasta dish. Another of my favorite healthy pasta dish is 5 A Day Veggie Pasta Get the recipe here:
When I plan on making Pasta Primavera I add carrots, peas, bell peppers and cherry tomatoes to my shopping list. I love the rainbow of colours in this pasta recipe. They make the dish so vibrantly coloured and nutritious at the same time. I like to add just a pinch of saffron which in turn adds a beautiful golden hue along with a subtle taste to the Pasta Primavera recipe.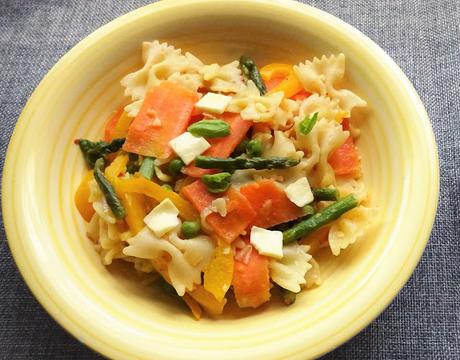 I have also made this pasta primavera without cherry tomatoes.
Prep Time: 15 minutes☻     Cooking Time: 15 minutes☻    Serves: 6☻     Cuisine: Italian
IngredientsQuantity
bow tie pasta (farfalle)500g 
chopped onion1 medium
chopped garlic cloves2-3 
olive oil4 tbsps
 red or yellow bell pepper1 large
asparagus spears (cut into lengths)15-16
peas1/4 cup
carrots cut into thin strips2 medium
cherry tomatoes cut in halves10
red pepper flakesto taste
salt to taste 
grated parmesan1/4 cup
lemon zest 1-2 tbsps
saffron dissolved in 1 tbsp water (optional)pinch
Method:
Boil the pasta in abundant salted water. Boil and drain according to package directions and set aside.
Reserve about quarter cup of pasta water while draining.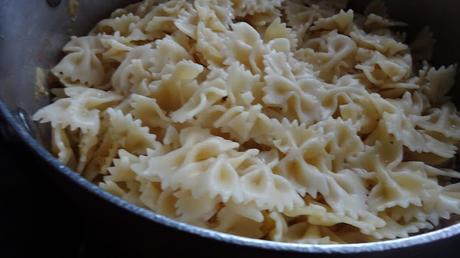 Cook chopped onions in olive oil until soft now add the chopped garlic and cook for another half minute.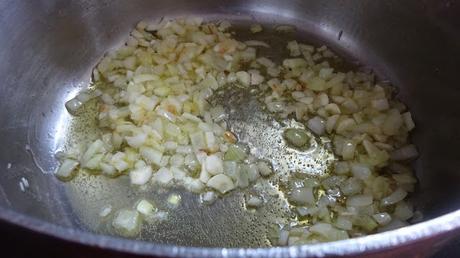 Now add the thinly sliced carrot and cook for about 2 minutes.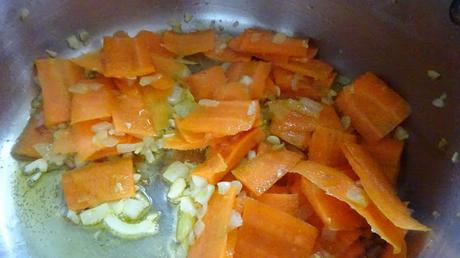 Time to add the asparagus, keep stirring. Add salt and pepper to taste.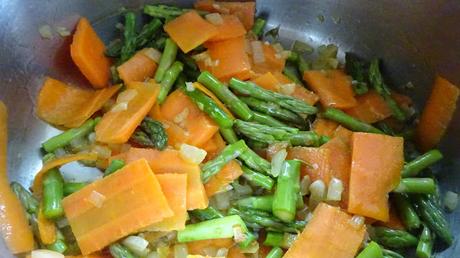 Now add the bell pepper and peas. Cook for two more minutes. Add the cherry tomatoes.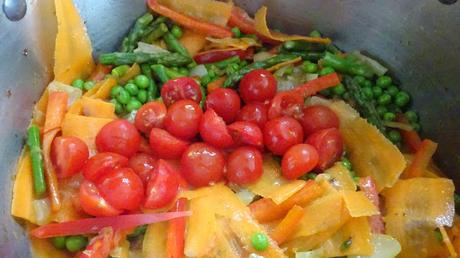 Now add the pasta into the vegetables along with the pasta water and stir to combine. Add the saffron if using.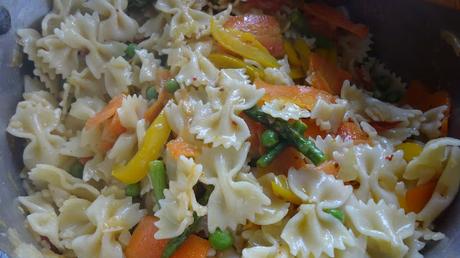 Last of all add the grated parmesan before serving. I forgot to add the parmesan. I have made this pasta with and without cherry tomatoes. You can use whatever works for you.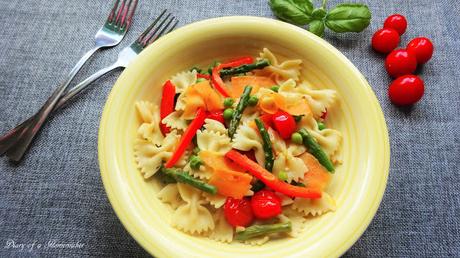 I hope you will make this Pasta Primavera recipe someday and get lots of compliments like I did.