with the amazing weather we're having at the moment, i couldn't resist making one of my favorite pasta salads that i usually only make in the summer. the best part of this recipe is, is the only thing you have to cook is the pasta!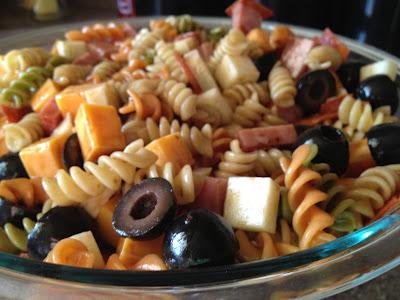 what you will need:1 box tri-color spiral pasta1 regualr sized brick of sharp cheddar cheese1/2 inch thick slice of provolone cheese1/2 inch thick slice of ham off the bone1/4 lb of sliced pepperoni1 can of black olives or kalmata olivesbalsamic vinegar
first you'll need to cook the pasta per packaging. i usually cook the pasta a little al dente since it tends to absorb the balsamic vinegar. while the pasta is cooking, cube the the cheeses and ham. using everything up. i love having a ton of yummy stuff in my pasta salad. next, cut the olives in half and the slices of pepperonis in 4ths. i stack the slices of pepperoni and then cut it making it nice and fast. now that everything is cut up and the pasta has finished cooking, i usually rinse off the pasta with cold water to cool it down quicker and let it dry for a while so that there isn't a lot of water left on it. the last thing you have to do is throw everything into a large bowl, mix, and generously pour the balsamic vinegar (i usually use italian dressing from a local restaurant but we didn't have any) on top. mix again. then place in the fridge covered for about 30 minutes before serving.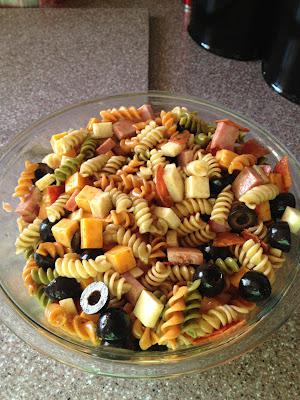 i usually can't wait for the pasta to chill, and usually have a bowl right away. one suggestion i do have is, after the first day, before eating i would pour a little more dressing or balsamic vinegar on it, because the pasta tends to absorb everything overnight :)
hope you enjoyed this easy recipe! what's your favorite summertime food?


Elle