Whether you're looking for a break from the mainstream, or seeking to add a little international flavour to your stock of film faves, the oft-shyed world of foreign film is definitely one worth exploring.
Each month, we'll help you navigate the map with our picks of some of the best from across the globe.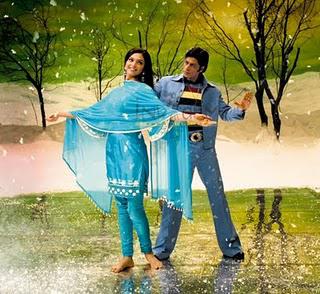 Photo: naachgaana.com
OM SHANTI OM
English equivalent:
Moulin Rouge!
speckled with
Ghost
.

Wordly charm:
Although it's gone largely unrecognised in terms of awards, it has become one of the highest grossing Bollywood films in North America, topped only by
My Name is Khan
and
3 Idiots
. It also received fairly positive reviews by both
BBC
("Some clever special effects and the sting in the tale at the end should cement the reputation of this novel choice for cinema-goers.") and the
National Post
("It's like sticking your head in a bowl of Skittles
—
this movie is pure eye candy.").

Guided tour:
It begins in the 1970s with Om Prakash (Shahrukh Khan), a junior artiste who dreams of making it big in Bollywood, and hopefully one day winning the heart of his celeb crush Shanti Priya (Deepika Padukone). One day, while working on a film, he hears through the vents that film producer Mukesh Mehra (Arjun Rampal) is secretly married to Shanti but needs to put an end to their marriage for some under-the-table film funding. (No, not sex. This is a Hindi film! But rather marrying another woman.) OK, long story short(-ish), Mukesh murders Shanti in a ravage fire, while Om dies in an explosion trying to save her. But then Om is reincarnated. And he has flashback memories of what happened to Shanti. So he seeks revenge. (And believe me, while that may be a lot to take in, I've spoiled next to nothing. You've still got two hours left of plot to unravel.)

Why you need to see it now!
Although you may not completely get the film's parodies of both old Bollywood and present, it also laughs at some Hollywood clichés (Dreamy Girls, anyone?).
Amaaazing outfits. Seriously. I want Deepika's wardrobe from this film.
Insane drama. If you think my "brief" synopsis to the film is intense, then you have no idea what you're in for. It gets crazy and hilarious.
An introduction to Deepika Padukone. At the time, she'd only done very limited acting. And although she hasn't done anything nearly as reverent since, there's a lot of hope and promise we'll see her in something big soon.
One of the best soundtracks ever. And by "ever," I mean, EVER. Songs are so beautiful, you'll wish you knew Hindi. But you'll try to sing them anyway.
The aforementioned beautiful songs are also paired with stunning dance numbers on magical, surreal sets. (See below. P.S. The brief scene snippet that follows is also great.)
On that note: the final number is definitely one to see. Over forty mega Bollywood stars strut the red carpet in the finale in a song that you wish will never end. Rani Mukerji, Kajol, Preity Zinta, Salman Khan, Zayed Khan, Juhi Chawla...