Good day, everyone!
Last week, I was given the honor to guest post on Vintage Gwen, sharing some party planning budgeting tips.  In case you didn't get to see it, I figured I'd share it with all of you, too! 
As you may all know, I love to throw a party.  And once it's over

, I can't wait until the next one.  Thank goodness for my three lovable children that I can throw parties for, too!  
But with my parties, there comes a budget.  It's usually a pretty tight budget since it can get costly very quickly.
So, today I'm giving you some budgeting tips so you can throw your own party for less!
First off,

plan ahead

.
This isn't always possible.  Especially if it's last minute or your kids like to change their minds on a 'theme' for their birthday.
But if it's possible, plan ahead by knowing the main colors/theme/look you're going for so you can buy things for cheap!  What do I mean?  Well, my daughter is a bit of a planner (NOT like me.  I am a procrastinator.  And I'm a bit spontaneous, too.), so she'll tell me what kind of party she wants before her upcoming party has even passed!  That's a bit extreme.  But still, even 3-4 months prior to your party, you can keep your eyes open for things that may be on sale that would work perfectly for your party.
Examples:  * props - an eiffel tower decoration for your 'Paris' party on clearance (I found mine about a month before the event)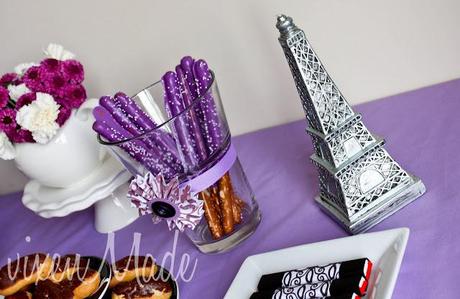 * supplies - clearing out last years popular color in paper straws, but that grey/white color would go perfect for your upcoming 'Woodland' theme
* holiday decor - end of year holiday clearances help you stock up on those purple bows which would be perfect for your 'Mardi Gras' party in a few months
Next, dig into your storage.
If you have a lot in storage like me, it might be just what you need to fill the spaces for the upcoming party.
Whether it's your Christmas decorations or your Grandma's old knick-knacks.  You need to have a little more of an open mind.
Examples:  * that old vase is headed for the trash, but wait--maybe painted a fuchsia color it would be perfect to hold lollipops at your daughter's sweet 16!
* have some ugly candlesticks?  Don't give them away!  Find some old plates and glue them together to create new cake plates.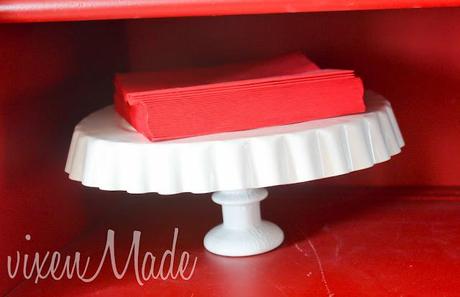 * even an old patterned throw rug can become a eye popping backdrop for a dessert table!
Thirdly, spend some time at the Dollar store.
It's true, some people find they hate going to their local dollar stores.  Yes, their toys will probably fall apart in a few days or their cheesy picture frames are too much to even look at.  But you must look beyond that and use your brain.
Seriously!  Nab some color-coordinated napkins while your there and you might just find something for less than what you had planned on spending.
Examples:  * you will always find cheap glass ware!  I've found a 6 pack of shot glasses for $2 in the past.  It worked perfectly for my Girly Bling party.
* check out the ribbon.  Grab a couple spools to adorn your apothecary jars or to tie up those goodie bags.
* candy!  Hoard those bags of gumballs.  They'll work great to fill your jars up at your 'carnival' themed party and the kids will go nuts over them.
Lastly, teach yourself to bake.
So what if you are NOT miss suzie homemaker.  Sugar cookies are easier than they seem to make.  And cake is conveniently found in boxes of cake mix for those who just don't have time.
For me, I love to bake, when I'm in the mood.  The only thing is, I don't have patience.  Or time.  And I can't fathom having to frost each cookie with royal icing for those star cookies my kids might want.  But I will, to save me a handful of money I might be shelling out if I got them made at a specialty bakery.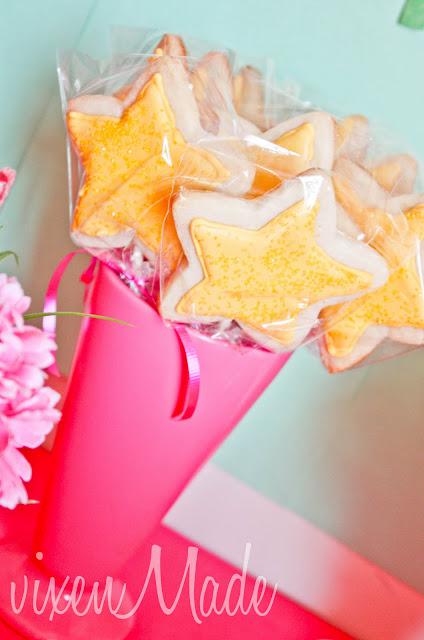 And if you really can't do it... go with something easy.  Marshmallow pops.  Jello.  Prepackaged treats such as Oreos, popcorn, rice krispy squares or mini chocolate bars.  You can use it all and still come across like you've spent time putting it all together.
I hope I've helped some of you in your attempt to pull off that party that seemed almost impossible.  I could really keep going.  I'm a bit of penny pincher in some aspects, so I hate to spend more than I have to.
At the same time, like I said, I love to throw a party.  
Thanks for stopping by!