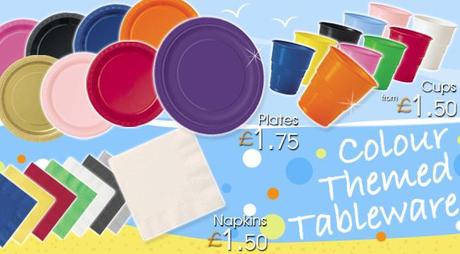 I hope you are all enjoying this glorious weather that even those in the Mediterranean should be envious of!  This is most certainly the best weather for dining alfresco, entertaining friends and family with a tasty barbecue or an afternoon tea!  After all, its official, afternoon tea in the UK has regained its popularity and everyone seems to have their own offering from top hotels to quiet village tea rooms. But you don't need to go spending your hard earned cash at expensive venues for the perfect afternoon.  Invite your fiends round and have tea at home, or better still if you are celebrating, how about having a "quintessentially English" garden party? 
So, be it the family barbecue, afternoon tea with friends or big celebration in the garden, it's nice to put on a spread, but the thought shouldn't stop at the food preparation.  One of the most important factors of any memorable party or gathering is setting the scene. How lovely is it when guests walk in and are welcomed by a beautifully set room or garden? This can be so easy with the use of affordable party basics from table cloths, paper and plastic plates to cups and napkins all designed to match or compliment each other. There are so many colours to choose from to suit every taste and existing colour scheme. 
Here at Party Options we offer 16 different colour choices which include our brand new colours that have just been added to the range! Have a look at the new colours which we are confident will help you create the perfect event.  
Silver and gold, are essential colours for those happy couples who have reached their 25th and 50th wedding anniversaries! These versatile colours might also co-ordinate with your chosen wedding colour scheme? 
Ivory is amongst our new collection and a true staple colour for any wedding, anniversary or summer party.  Such a beautiful neutral colour which you can accessorise with a striking contrasting colour, but simply stunning on its own too! 
Burgundy and Purple have been added to the colour palate which are bright and summery for this season and look amazing mixed with our other colours to create a beautiful burst of colour to your garden event! 
In addition, with these new colours we can now offer you the choice of plates in paper as well as plastic giving you the flexibility of either a "washing up free" party with paper plates or "fantastic value for money" when you use the plastic plates as they are good enough to use again and again!
Whatever your colour choice this summer don't forget to celebrate in style with our colour themed tableware!
For all the latest news and offers why not click on over to our Facebook page!