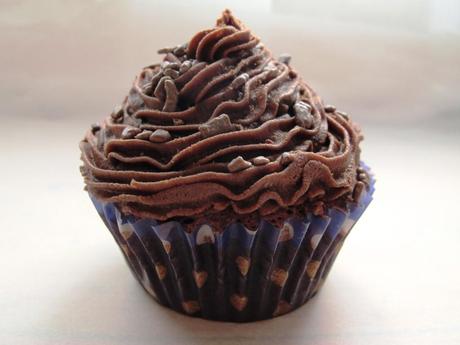 This is the last of the three part cupcake series. And I have saved the best for last – amazingly dense and rich chocolate mud cake, and the best chocolate buttercream frosting I've ever used for piping.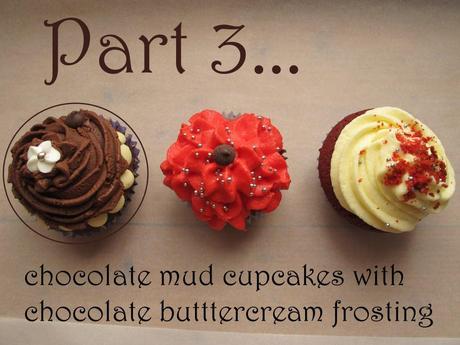 There are some important things we need to cover here, so I'm going to be all business today.
Firstly, best piping tips in the world are over on part 1 – red velvet cupcakes with cream cheese icing. These tips, pinched from a fellow blogger, taught me to pipe.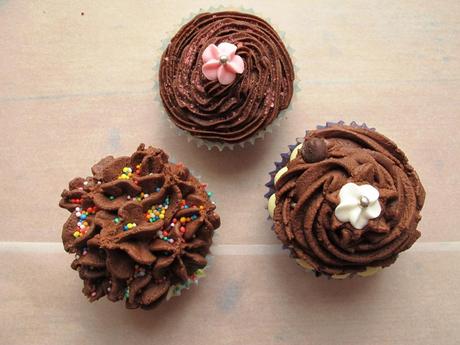 Secondly, this type of cake is the ultimate make ahead trick. The cake gets better a few days after making it. Meaning you can make the cupcakes one day. The a couple of days later when you have more time, do the frosting. Then freeze.
The freezing is a bit of an art. It helps if you have a boyfriend who loves these kinds of challenges. Below was his inventive cupcake storage solution. He says he'll make you one too… and will work for beer.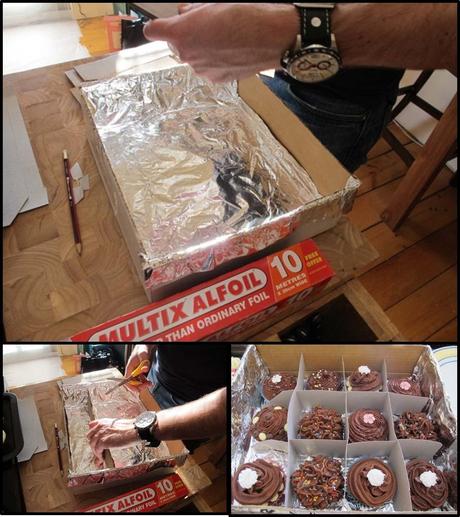 (P.S. You'll be pleased to know that two months after turning 30 – which these cupcakes were made for – I'm kinda OK with it now. Kinda. Being 30 that is. I was always OK with cupcakes. Obviously.)
Enjoy!
This recipe makes 26 chocolate cupcakes.
Ingredients
Chocolate cupcakes
250 grams butter, chopped
200 grams dark chocolate
2 cups sugar
1-1/3 cups of strong coffee/espresso
3/4 cup plain flour
3/4 cup self-rising flour
1/4 cup cocoa powder (use good stuff!)
3 eggs, lightly beaten
Chocolate buttercream frosting
(sorry for the strange amount, it's 1.5x the original here at Sweet and Crumby)
340 grams unsalted butter, softened
1 1/8 cup unsweetened natural cocoa powder (good quality makes a huge difference)
1/3 teaspoon salt
6 cups icing (confectioners') sugar
1/2 cup heavy cream
1.5 teaspoons pure vanilla extract
Method
Chocolate cupcakes
Add first four ingredients into a saucepan and heat on low until melted and sugar is dissolved.
Allow to cool for 10 minutes.
Add all flours to the cooled liquid, mixing until incorporated.
Add eggs and mix until incorporated well.
Pour mixture into prepared cupcake pattys and bake at 180 C for approx 20-25 minutes. Every oven is different, so when it begins to crack on top, check it with a toothpick…when it comes out clean with just a few moist crumbs, it's done!
Chocolate cupcake frosting
To prepare the frosting, place butter, cocoa and salt in the bowl and mix with electric beaters. Cream the mixture on low until thoroughly combined, about 3 minutes.
Add the icing (confectioners') sugar, cream and vanilla. Combine on low for 10 seconds, then increase to medium and beat for 10 more seconds.
Increase to high and beat until the icing is light and fluffy, about 3 minutes.
Scrape down the sides of the bowl and beat for an additional minute.
Keep at room temperature until needed
Garnish: I used choc chips, some candy-glitter, 100′s and 1000′s (these are a smaller, round version of sprinkles for the American readers), and basically anything else I could get my hands on. Get creative.
Makes: 26 cupcakes – I did have some leftover frosting, but always better to have too much.
Storage: They freeze well, otherwise best eaten within a couple of days. Store in airtight container. I froze mine for two weeks.
Source: Chocolate cupcake recipe from Jessicakes. The frosting is from Sweet and Crumby.