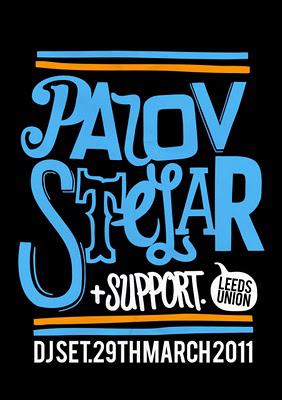 Our friends over at the mighty Hush House blog have put together an impressive and eclectic lineup set to go off on March 29th at the student union's venue Stylus:
PAROV STELAR & MAX THE SAX
RAF DADDY (The 2 Bears)
ENZO SIFFREDI
Stylus, Leeds, 9pm - 2am, £15
****************
PAROV STELAR & MAX THE SAX
'The King of Swing House' is finally gracing the UK with his presence...
Parov Stelar has an unmistakable sound - a mix of Jazz and Swing samples perfectly blended with Electronic dance music which has gained critical acclaim from all corners of the world. As if that wasn't enough, Max the Sax, the saxophonist from Parov's house band, will be playing live alongside him.
Check some of these videos..
http://www.youtube.com/watch?v=JRtHYiWmsoA
http://www.youtube.com/watch?v=twqM56f_cVo
****************
RAF DADDY (The 2 Bears)
This man is no newcomer to the party scene but right now he sits alongside fellow Greco Roman Soundsystem member Joe Goddard (Hot Chip) to form the hottest production duo in dance music.
http://www.youtube.com/watch?v=sdje1yB8qdw
"New 2 Bears remix of Ben Westbeech might just be early contender for house tune of the year. Stupidly strong start to 2011 for the teddies!" - iDJ Mag
For some freebies from the 2 Bears check out the post we did last week.
****************
ENZO SIFFREDI
Enzo is a Brighton-based House producer on a very similar vibe to Parov Stelar. 2011 is set to be a promising year - releasing 'Jungle Dancin' on Starlight Music (distributed by EMI Music), set to hit the Beatport Top 100 and make its way into radio playlists across the country. For an example of  Enzo's sound, check this red hot mix: http://snd.sc/en8VUJ.
****************
Grab tickets while they last:
Leedstickets.com: http://tinyurl.com/leedsticket-parovstelar
Ticketweb.com: http://tinyurl.com/ticketweb-parovstelar
Tell your friends and get your dancing shoes on...