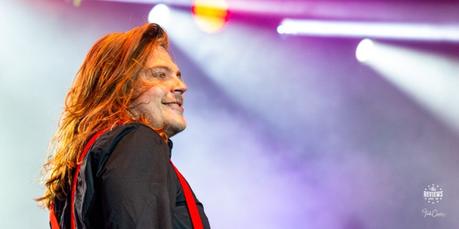 Parkjam Festival in London, Ontario kicked off their inaugural event with rock night. Day one headliners The Glorious Sons, were joined by Long Beach, CA band Cold War Kids, Toronto's The Beaches, and London natives Texas King.
In addition to the main stage acts, the Forest City London Music Awards Spotlight Stage was lit up by Toronto's Goodnight, Sunrise, Kingston band Kasador, and Thunder Bay's The Honest Heart Collective. The second stage allowed for a smooth transition between bands, and very few moments without live music.
Texas King led off the festivities with a bang. Lead singer Jordan Mcdonald remarked that for 5:15 on a late Thursday afternoon, the crowd was impressive. From the get, Texas King brought the energy, running through their set with moxie.
This slideshow requires JavaScript.
First up on the Spotlight Stage was one of our local Toronto favourites, Goodnight, Sunrise. Donning their signature sparkle, they delivered a fun, tight set, and kept the energy level up.
I caught up with them later in the day for an interview. Stay tuned for that in the coming days.
This slideshow requires JavaScript.
Back to the main stage for another Canadian favourite, and Juno Award winner, The Beaches. Dressed all in white, Jordan Miller, Kylie Miller, Eliza Enman McDaniel, and Leandra Earl joked that they were proof that you could absolutely wear white after labour day. The band played songs from their album Late Show and their recently released EP, The Professional.
They've had an exciting year, and I caught up with them backstage before the festival began to get some info about their highlight of the year (hint, think The Rolling Stones), and what's up next. Keep your eyes peeled for that interview.
This slideshow requires JavaScript.
I headed back to the Spotlight Stage to check out Kasador. We've been talking about this band for a while now, and it was great to see them again. They've been busy, and if you missed it, Will Hunter, Boris Baker, Cam Wyatt, and Stephen Adubofuor will be hitting the stage at Toronto's The Rec Room next week.
This slideshow requires JavaScript.
As soon as Kasador finished, Cold War Kids started up on the main stage. They've been releasing music since 2004, and if you're a rock radio person, you'll have heard their current release Complainer. They played this and a great mix from their catalogue. With lots of piano backing, Cold War Kids were just what I was looking for as the sun started to set.
This slideshow requires JavaScript.
It's been a while since I've seen The Honest Heart Collective, and when I saw they were on this bill, I was thrilled. Despite a couple of technical difficulties, the set went on, and it was fantastic. The band is on tour and released a brand new song today. Check out Fine., wherever you listen to music.
This slideshow requires JavaScript.
Closing out the night, The Glorious Sons hit the stage with purpose and intensity. They had the London crowd in the palm of their hands from the first note. The audience sang along and ate up every second. They're hot off eight consecutive Top-10 rock radio hits and breaking into the US market with S.O.S. (Sawed Off Shotgun).
This slideshow requires JavaScript.