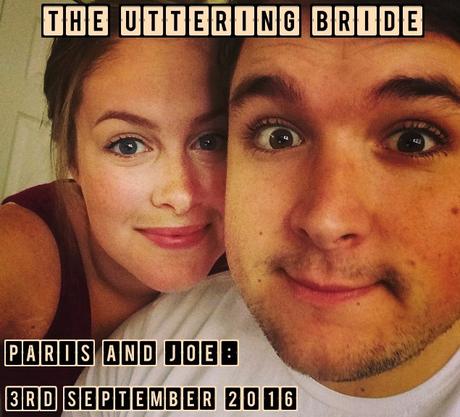 I hate to say it but I have really let the "wedmin" slip this month. As much as I envisaged having the Save the Dates made and sent out for the one-year-until-the-wedding countdown, it just hasn't happened that way. The good news is that we did finally get around to making the ruddy things. The bad news is that I still have around 25 of them sitting on my shelf ready to be sent/hand delivered. I could give a thousand excuses including work, friends and moving, but in reality the wedding had just slowly slipped down the priority list. However, I did absolutely ADORE making the Save the Dates and I am so pleased with the finished result. There is something so satisfying about setting up a crafty production line and churning out card after pretty card.
So here is the final version: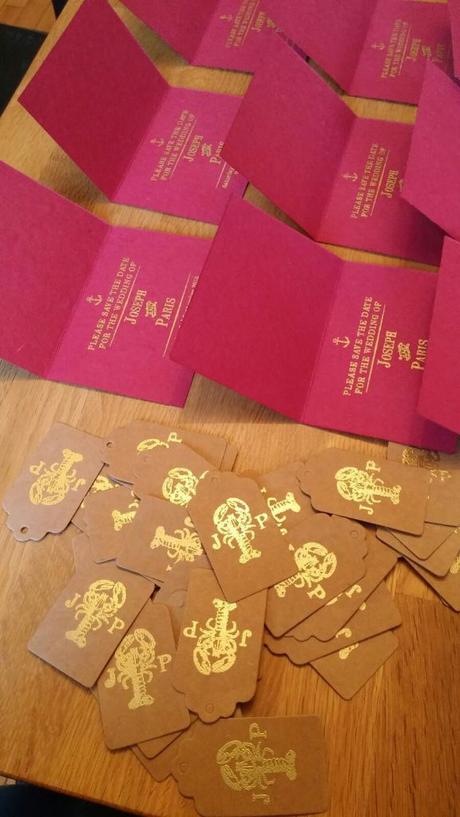 Not quite the postcard style I had planned and the one and only reason for this is cost! Turns out that Save the Date post cards (or any post cards for that matter) are blooming expensive. We took a trip to Whitstable to find some vintage style Whitstable postcards, thinking we would use these and then stamp our message on the back. I fell in love with some screen printed corrugated postcards in a little artists shop, but at £2.50 a pop Joe dragged me away to be consoled with cod and chips. Then, one lunchtime I was browsing through Paperchase when I came across some really pretty foiled cards in all sorts of bright and whacky patterns. So Paperchase came to the rescue with their lovely embellished numbers and at £4 for 8 cards, all was well in the world again.
The English Stamp Company provided our lovely lobster stamp and Save the Date stamp, and I really cannot recommend them enough. I know that Jenny also used them for her Save the Dates and they are just so helpful and the stamps arrived within a few days. I also purchased some gold embossing powder and an embossing gun from them, which gives that raised finish. After continuing to fail miserably at getting the stamping juuuuust right (did I mention that crafts turn Joe into some kind of mental person?) I was demoted from stamping duties to permanently sit with the embossing gun, which is essentially a teeny tiny hairdryer.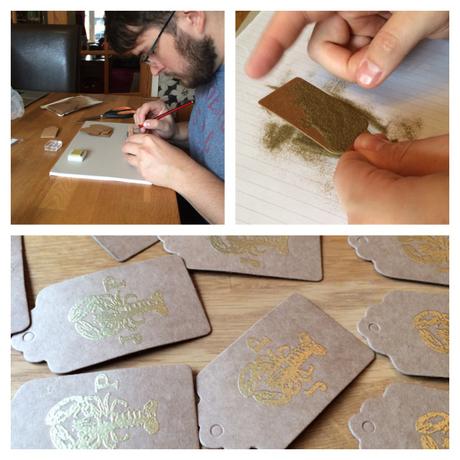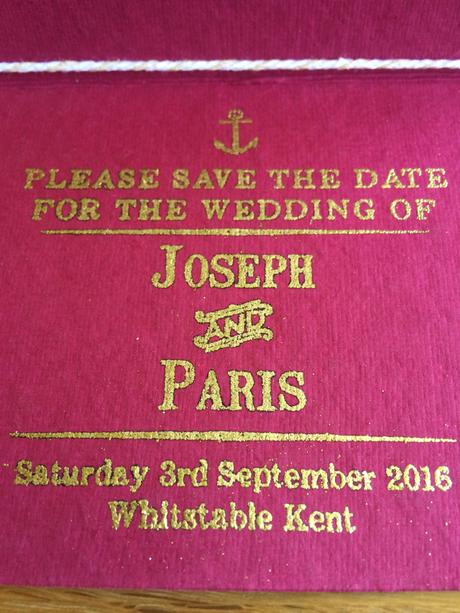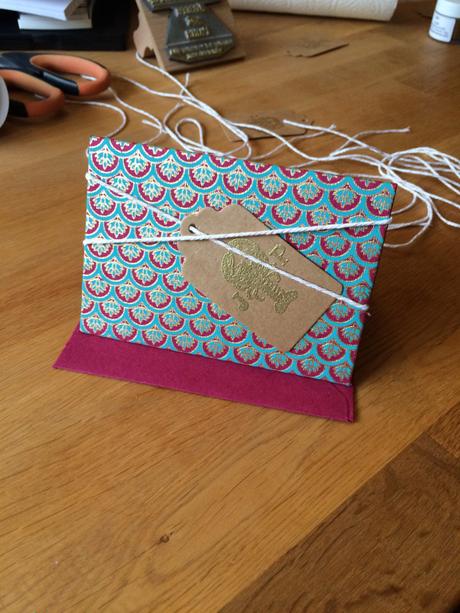 All in all it took three and a half people (my flower girl Belle popped along for the ride), 6 hours and approximately £80 to make 50 x Save the Dates. People have been wondering whether the cards are a hint to the color scheme but I am sorry to disappoint, although I suppose they do fit with the "bright" theme. The color scheme is still up in the air with no sign of coming down just yet and I am quite happy with that. I like to change my mind and the closer to the wedding that I actually make a final decision the better, I say.
I have been rather decisive about hair and makeup however! Originally I wanted to do my own makeup as I hate that trowelled on look that I see on so many brides at the moment. I know every bride says they want to look "natural" but I really do! Then I had my makeup done as a bridesmaid for my dad's wedding last week and I absolutely loved it and it's always nice to feel a bit pampered too. Two days later I booked both the hairdresser and makeup artist and ta-dah! another thing can be ticked off the list.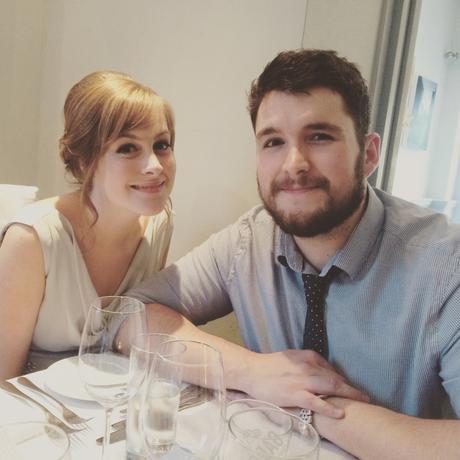 Bridesmaid-ing.
Speaking of ticking things of the list I may have ticked another teeny tiny thing off the list last week… the dress! But I think I will save that for next time.
Paris xx