HOLLYWOOD—It runs in the family. It is ambition, drive and inspiration. If you ever read "Be My Guest," by Conrad Hilton, you'll understand why his great-granddaughter Paris Hilton is such a success. In the book you'll read about the challenges and triumphs of a life filled with adventure, big business, celebrity and cherished moments. Conrad wrote," To accomplish big things I am convinced you must first dream big dreams." Conrad Hilton's inspiring personal memoir resonates with perseverance, faith, phenomenal success but above all compassion.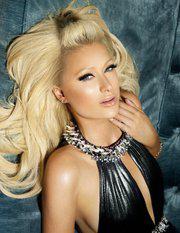 Photo Courtesy of: Facebook

It is no wonder "it runs in her blood," that Paris Hilton would show compassion to a woman begging with a baby in her arms on the streets of Mumbai, on September 26. According to the Indian newspaper Mid Day, Paris Hilton reportedly spotted the woman and handed the woman $100 dollar bill through the window of her car. Hilton, 30, was in India to launch a new line of handbags. The woman who took the money had never seen a hundred dollar bill and reportedly asked a photographer at the scene for change.

Paris is currently on a business tour, however she managed to squeeze in Ibiza the next day for the DJ Awards. She continues to be a magnet in the entertainment field, with plans to produce movies and TV shows, singing, writing and acting. Where does she find the time for everything? She's recording her sophomore album with DJ Afrojack. She's planning on developing and promoting luxury beach resorts- after her trip to the Philippines. Let's not forget her fashion and accessory lines. When she does manage to be back home in LA, she drives her pink Bentley and loves to be with her animals. She has almost five million followers on Twitter, so she must be doing something right.

With all these business ventures, Hilton could certainly afford to take a walk down the Yellow Brick Road in Dorothy's shoes. Judy Garland's ruby slippers worn in "The Wizard of Oz," could go for as much as $3 million dollars when they hit the auction block on December 16, with more details to follow in upcoming weeks. According to the auction house, Profiles in History, the shoes are one of only four in existence. So many celebrities or their estates have hit the auction house from Frank Sinatra to actress Debbie Reynolds.

The rare-never-before seen photos of Marilyn Monroe before she became famous back in 1946 will also hit the auction house. The collection of black and white photographs along with a third of them in color taken by the late photographer Joseph Jasgur will finally come to light. The photos have been locked away for decades due to legal battles, and finally a judge in Florida last week ruled they could be sold to pay off a debt. The annual Julien's Auctions' "Icons & Idols," event will be held in Beverly Hills on Friday, December 2 through Sunday, December 4. There are about 80 photos, and they estimate each photo will sell for about $4,000 dollars.

Rose's Scoop: Demi Lovato performed on "Dancing With the Stars," on Sept. 27, with her new single "Skyscraper," from her new album "Unbroken." She looked absolutely stunning and received a standing ovation. Finally, the exes have something in common again, Marc Anthony and Jennifer Lopez will both be selling their fashion line at Kohl's.