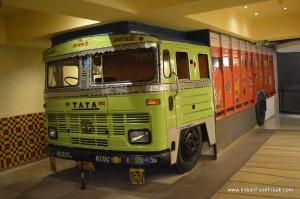 Where once was the Claridges at Surajkund, Faridabad, now stands Taj Vivanta, Surajkund. It was a perfect evening. We reach the venue at 7:30 PM. The splendid combination of Fire and water welcome the guests and it creates a mesmerizing ambience right from the lobby of the hotel. Hotel interiors are elegant with modern touches with nothing either loud or gaudy. Their Indian restaurant, Paranda, is on the first floor of the hotel.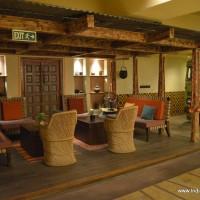 In keeping with its theme, Paranda has a robust yet elegant setting. A huge Tata truck with funny Punjabi quotes is parked right at the entrance of Paranda. The restaurant has been designed to give a look of a typical highway dhaba yet modern touches can be seen without overpowering the basic theme. Charpoys, lanterns, martaban, brass utensils, paranda, chunnis and bangles are a prominent part of the interiors and well placed. The restaurant, with a seating capacity of 80 is perfectly lit and colors used are fresh and vibrant.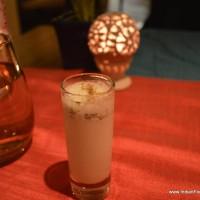 Once seated, we were presented with matha shot as a welcome drink along with a gol gappa. Matha shot is spiced to perfection with roasted jeera, green chilli, dhaniya and ginger. The only low point is the presence of ice crystals. However when we order matha later, it is just perfect without the crystals. The not-so-regular inclusion of karela and bhindi in the menu impress us.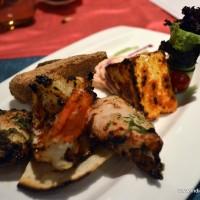 We are soon joined by executive chef Ganesh Joshi and F& B manager Ravi. Prakash Singh. Chef Joshi explains about the concept contemporary modern interiors of cuisine from punj aab (five rivers) which is the basis of the food served here. He further explains that they have stressed more on getting a taste which comes right out of a kitchen at home. We now start our expedition with the starters. A platter consisting of kale channe ke kebab, Punjabi paneer tikka, methi machhi tikka, kurkuri macchi, murgh sunehri shahi tikka and bhutta malai jhinga is served first. The showstopper here is the bhutta malai jhinga. The prawn is fresh and the flavor of malai and corn blends very well. Murgh sunehri shahi tikka is equally good and goes well with the fresh mint chutney. Kale chane ke kebab tastes good but lacks bite. An addition of peanut or nuts would have raised its level. Paneer tikka however fails to impress and tastes like an average one with tthe flavors not getting inside the paneer. Methi machi tikka, fish Amritsari and kurkuri machi are not on par because the Sole fish used lacks that Punjabi punch which singhada offers because of the good water content it has. Kurkuri machi is well crusted with rava and fried. This could have tasted better if served with a suitable accompaniment.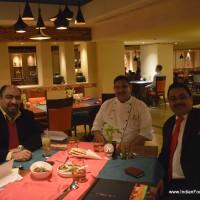 While we are savoring on the starters, we are also joined by the GM of the hotel Mr. Rajeev Khanna. Showing his keen interest on food blogging he wants to understand how this works. We are now presented with raane khaas which they claim is their specialty. As per the chef a 750 gms is the perfect weight for the raan used for this recipe and he is very particular about choosing his meat. The raan is marinated overnight, cooked in oven and then tossed in masala. The meat was well cooked and tender but high on salt.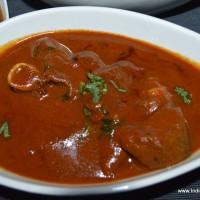 We now move to the main course. Sood de dhabe di daal and tariwaala mutton steal the show here. Dal is rich in flavor with perfect addition of rajma and channa dal to it. Giving a taste of a perfectly home cooked dal, we like it so much that we can't help asking the chef for its recipe. The best part of the tariwala mutton is the right consistency of gravy which is neither too thick, nor too thin. The meat is tender and spiced to perfection. Another notable item in the menu is palak kofta makhni wala which goes well with the makhani gravy. Chooza khaas makhni has nothing khaas in it. The chicken lacks flavor and tastes like an almost average butter chicken. Mutter mushrrom and bhatto aloo Shimla mirch however tastes just like home with very subtle flavours. Among breads, mirchi pyaaz parantha leads the baton while the aromatic flavor of zeera in the zeera pyaaz pulao is worth a mention.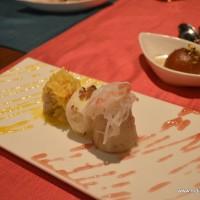 The dessert section has anjeer ki kulfi, the standard gulab jamun and malai cham cham to offer. Undoubtedly anjeer kulfi is the best I have tried till now and cannot be missed. I find gulab jamun to be a bit oversweet and cham cham as any regular one.  For mouth freshner, we are given dried paan along with the regular saunf. Dried paan is something I never tried before and I must say that I have been  missing something. I would rate the overall experience as great. It changes my perception of five star hotels serving bland food lacking in flavor. Whenever you are in this part of NCR, a meal here can be a good option.
Ratings (out of 5)
Ambience: 4.0 | Food: 3.0 | Service: 3.5 | Overall: 3.5
Alcohol: Yes | Credit Card: Yes | Meal for two:  ₹2000/- (Without drinks & taxes)
Address: Paranda, Taj Vivanta, Shooting Range, Surajkund, Faridabad| Telephone: 0129-4190000
- Hardit Singh