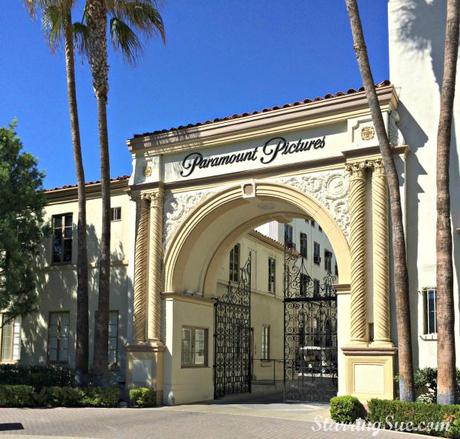 Today I was a trophy girl at the 5th Annual Entertainment Technology and New Product Awards held at Paramount Pictures in Hollywood. The International 3D and Advanced Imaging Society honors companies and organizations for advancing the entertainment industry through technology.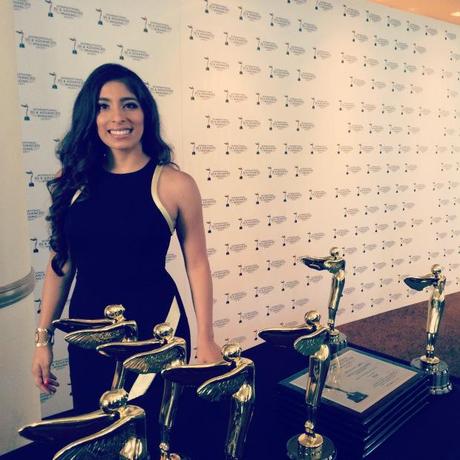 19 companies were honored and they came from ten countries including the U.S., Belgium, Germany, France, Japan, Canada, China, Korea, England, and Wales.
The biggest award which was The Lifetime Achievement Award was given to John Rupkalvis for his work in the development of motion picture and television products and system.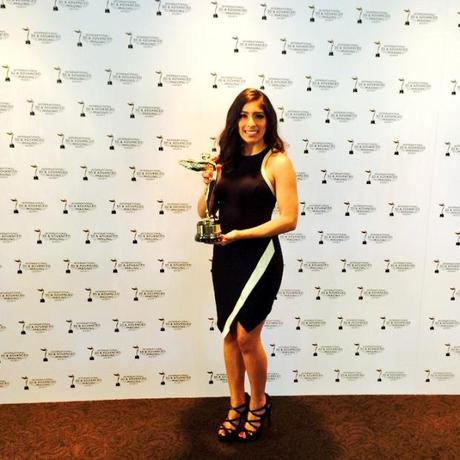 Here is a complete list of the 2014 Technology Award Winners:
Lumiere™ Statuette Awards Were Presented To:
Adobe – Creative Cloud/Speed Grade
Barco – DP4K-60L Laser Projector
BitSpeed – Concurrency
Blackmagic Design – UltraStudio 4K
Walt Disney Studios – Trifocal Camera
Fraunhofer Heinrich Hertz Intstitute – Trifocal Camera
ARRI – Trifocal Camera
Dolby Laboratories – Dolby Vision – EDR
DVS – Clipster
Fraunhofer Heinrich Hertz Institute – STAN System
Gener8 – GPU-Accelerated Video In-Painting Occlusion Filling
MasterImage 3D – MI-HORIZON3D
Panasonic – 4K LUMIX, Digital Single Lens Mirror-less Camera DMC-GH4
Panasonic – 4K Wearable, Point-of-view Camera HX-A500
Panasonic – 4K VARICAM, High end production camera recorder AU-V35C1G/VREC1G
Prime Focus World – Prime Focus World Hybrid Stereo Pipeline
View Holographics – Holography
Vision3 – Post Conversion Management System
Volfoni3D – SmartCrystal Diamond
New Product Awards Were Also Presented To:
4DX – Cinema Innovation of the Year – 4D Movie Theater: Motion Seats and Environmental Effect Equipment, Regal Cinemas LA Live Stadium 14
StereoLabs – Autostereo Software of the Year – Verity
StereoLabs – Autostereo Workflow of the Year – First Live 3D Workflow for Glasses-free 3D Displays
SuperD – 3D Mobile Product of the Year – SuperD Glasses-free 3D Mobile Solution
zSpace – 3D Education Product of the Year – zSpace STEM Lab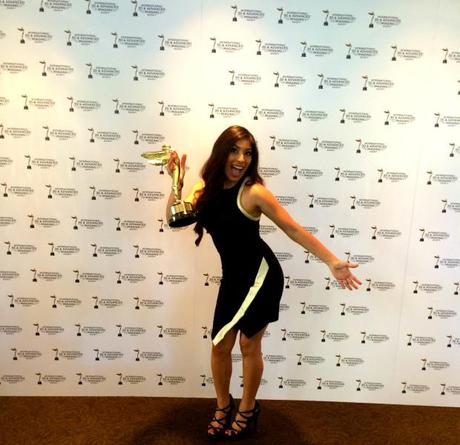 I had a wonderful time at the event. The trophies were made by the same company who makes the Academy Awards trophies. They were definitely beautiful and heavy.

I had to take a photo of the beautiful view from the parking structure.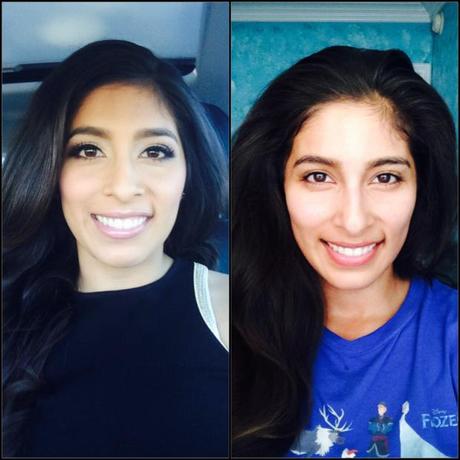 Left: Des Magic / Right: Washed Face
It is no secret that on a daily basis, I refrain myself from wearing makeup, with the exception of drawing in my eyebrows. Growing up I never saw my mother use it, and although I was a performer, my mom never made it so important.
For today's event, I got my makeup done by a friend from high school, Des. Everyone complimented me. It was beautiful and natural. Makeup artist never get my eyebrows on "point", as some say lol and I ALWAYS stay away from fake lashes, but Des convinced me to use them and she did such an incredible job.
Although, I loved her work, as soon as I got home, I washed everything off.  What is my routine? Well, I start off by washing my face with soap and water. Then I use face wipes, followed by spreading Vaseline on my face and using a cotton pad to wipe it off. Next, I wash my face with soap and water again, and rewash it another time with my Shiseido Cleansing Foam. Then, I use the Shiseido Benefiance Balancing Softner with a cotton pad. Lastly, I apply the Shiseido wrinkle lifting concentrate and the Shiseido Revitalizing Emulsion.
I only do this routine when I have a lot of makeup on. On a daily basis, and for the past 10 years, I use Olay Active Hydrating.
To book Des, here is her information:
562.916.5563
Instagram