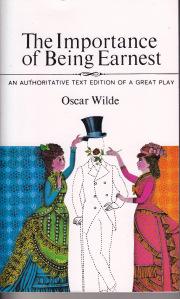 I suspect, like most people, I missed quite a few classics in school. This was the '70's when new and experimental were still the rage. One of the must-reads I missed was Oscar Wilde's The Importance of Being Earnest. As usual when approaching books like this, I'm delighted at the sheer number of famous lines I've repeatedly heard, whispering to myself, "So that's where that comes from!" as I go. Since I expect you, my cultured reader, have walked on the Wilde side, I need not provide any of these lines here. I won't even have to go over the plot. The edition I read, however, contained lines and scenes that did not make it into the canonical version. As an erstwhile writer, I know that final versions seldom resemble those that felt so magical at their penning. Cuts must be made. Editors must be satisfied. And so goes the life of the writer.
It was one of these cut lines that caught my eye. With Wilde's keen wit, the clergy, represented by Dr. Chasuble. (For those liturgically challenged readers, a chasuble is a priestly vestment in the Roman and Anglican traditions.) In an unfortunately stricken scene the minister says, "I am compelled, like most of my brother clergy, to treat scientific subjects from the point of view of sentiment. But that is more impressive I think. Accurate knowledge is out of place in a pulpit. It is secular." Accurate knowledge is secular. That thought stayed with me long after reading the out-takes and deleted scenes of the play. Those that remain contain priceless comments about the church and the dangers of christenings. This particular gem, from the cutting room floor, would be hilarious were it not so often true. It explains, for example, creationism.
It's a fair wager that science remains, even today, a subject that flummoxes clergy and laity alike. It is the new revelation, after all. No truth cannot be reduced to numbers. Even my scribbling this post is mere electro-chemical signals jumping synapses like electro-chemical salmon dying to spawn. We've simply substituted one clergy for another. When's the last time a preacher has been cited as an authority on anything? What with televangelists setting the bar (for anything we see on the media is necessarily representative), it stands to reason that no real intelligence lies here. By default we nod toward those who hold the paten and chalice of empirical evidence. As it is now, but never was, and shall be forever, amen. Who's being earnest now?