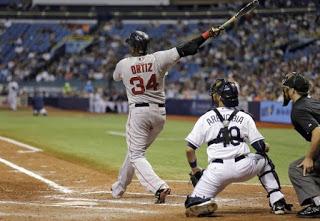 David Ortiz hit two home runs last night at Tropicana Field in St. Pete in the Red Sox' 10-4 win over the Tampa Bay Rays, and became the 27th player ever to reach the 500 home run plateau.
He hit two solo shots off Matt Moore, and was greeted by a mob scene of his Red Sox teammates at the dugout.
Ortiz became the fourth player in a Red Sox uniform to hit a 500th home run, joining Ted Williams, Jimmie Foxx and Manny Ramirez. He is also the fourth player ever to hit 500 home runs who played for three World Series championship teams, joining Babe Ruth, Mickey Mantle and Reggie Jackson. Quite elite company.
This will absolutely cement his election to baseball's Hall of Fame. His resume speaks for itself. Papi will face the prejudice against him as being mostly a designated hitter. But how do you keep someone who has hit 500 home runs, is a nine-time All-Star, 3 World Series championships, World Series and ALCS MVP and holds just about every hitting record for a DH out?
You don't. It's a matter of when, not if, he gets in.
Congratulations, Large Father.