In my previous job there was a real push to make it a paperless office but I say why not create your whole work space out of paper! Have a look at these wonderful office products – all made out of lovely paper (furniture included)!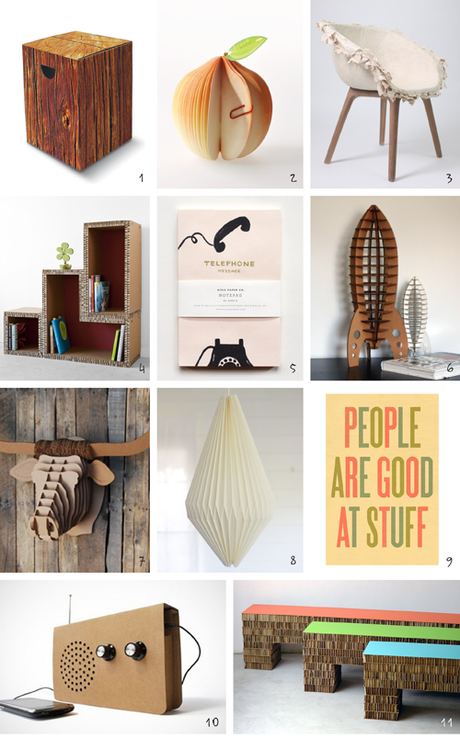 1 Log cardboard stool | www.formfunctionstyle.com.au
2 Peach notepad | www.inkyco.com.au
3 Paper chair | www.innovo-design.com
4 Modular bookshelves | www.a4adesign.it
5 Vintage telephone notepad | www.riflepaperco.com
6 Astro rocket | www.etsy.com/shop/CardboardSafari
7 Tex Longhorn | trophy www.huntandgather.com.au
8 Pleated lampshade | www.fatherrabbit.com
9 Typography art print | www.etsy.com/people/ashleyg
10 Cardboard radio | www.suck.uk.com
11 Bench | www.a4adesign.it
Shannon x
Shannon Morton has spent the last 15 years working in the publishing industry and has been the Art Director of many magazines including Donna Hay magazine in Australia and Livingetc magazine in the UK. She now runs her own graphic design company and enjoys creating lovely things for people and their businesses.
Visit Shannon at www.shannonmorton.com and  www.ohhowverylovely.blogspot.com.