Hello everyone,
Time to finish this mask business.  It always takes me longer to get to my posts than I expect.   I finally finished the red (wall-street banker) mask tutorials on Youtube.   If you are interested in the final installment, watch here.  
I know that I've talked a lot in these tutorials and blog posts about my "cloth mache" process.   Well, here's more.   Despite years of working with cloth and glue I'm always amazed by how perfect it works for some details...like ears.   It turns out that if you cram a square piece of cloth into a little hole and then wrap the rest around the ear, you get a perfectly shaped ear.  I don't know why we evolved with such strange wrinkles in our ears, but it sure makes it easy to replicate with cloth and glue.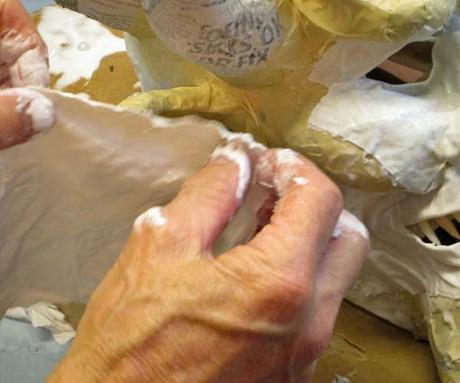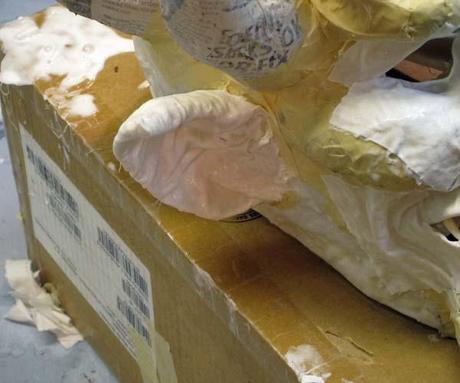 Even more perfectly, the cloth makes for some great horns.   For these horns I started with large pieces of cloth.   As I wrapped them around the horns I pinched the cloth so that it bunched up lengthwise.   I think it made for a really nice effect.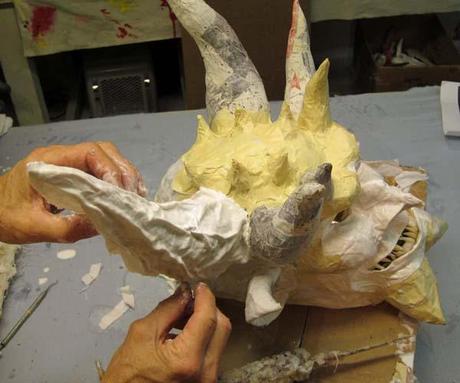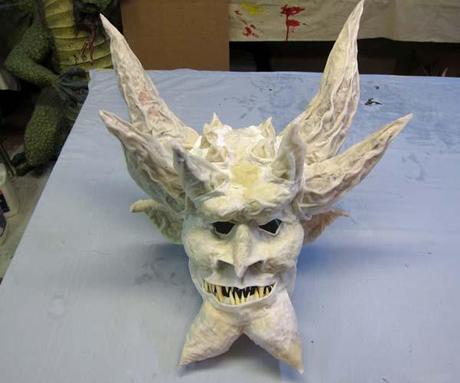 For this mask I used a dark blue paint and yellow.  First I put the dark blue into the eye sockets and inside the nose and ears.  While it was still wet I added the yellow.   It never looked yellow because it mixed immediately with the blue on the brush.   I like this way of painting because you don't get a monochromatic green.  You end up with many shades of the final color.   For the horns I just added some white to the yellow to get a cream color.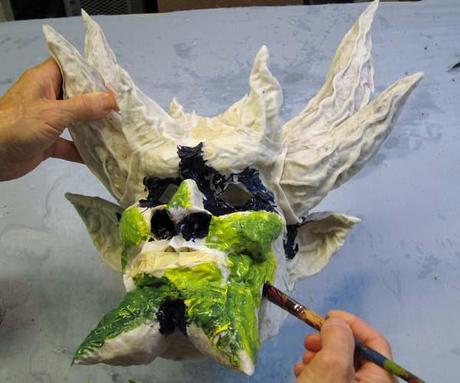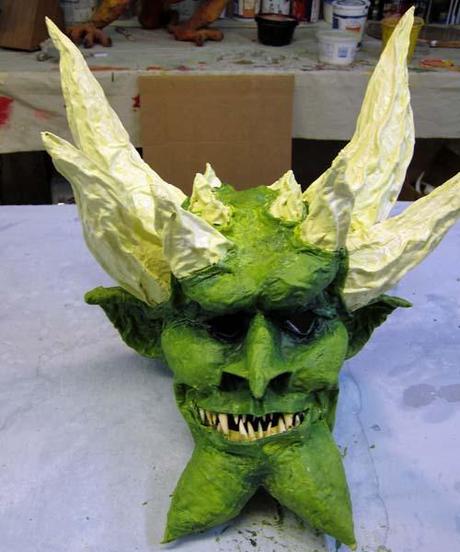 Next, I blackwashed the mask.   Just watered down the black, painted it on, and wiped it off before it dried.   This worked beautifully on the horns I think.  I really like the way they turned out.  After the blackwash is dry I always add some color back.   I put a little green paint on my brush and hit the high spots.   I call this "highlighting".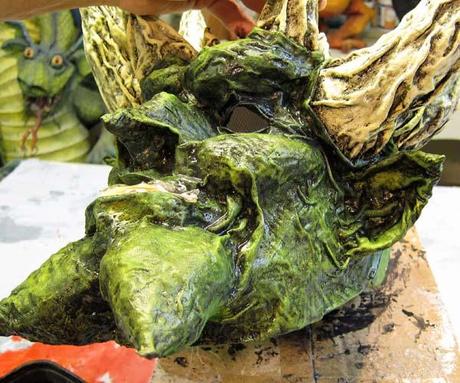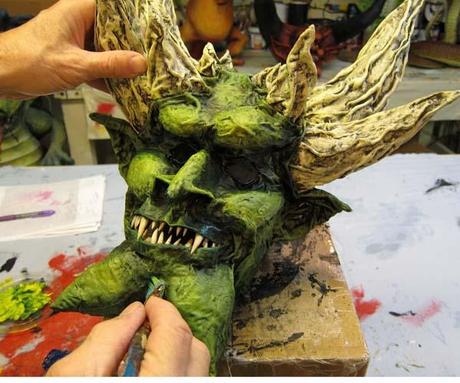 I scraped glue and the bits of green paint that got on the teeth.  Latex paint will come off polymer clay.   Lastly I wanted to make this mask comfortable on my face.  While it's not absolutely necessary I pulled out the wire mess I used in the beginning.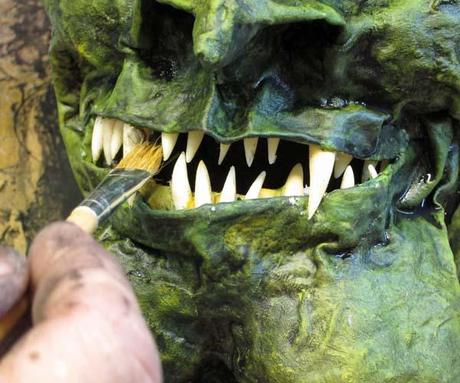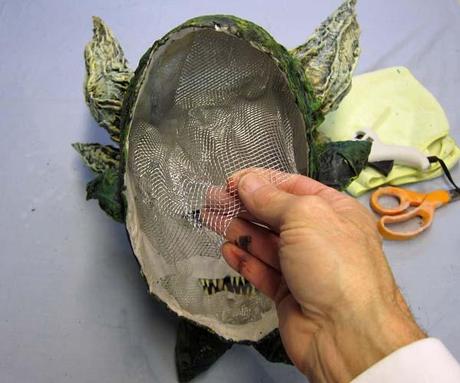 I had an old soft rag laying around that I cut into pieces.   I used hot glue to put some strips around the rim.  Then I added other square pieces in places where the mask pressed against my face.  You don't need to do the entire inside of the mask.   This made the mask really comfortable.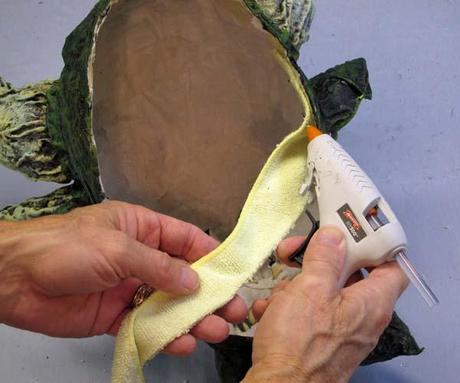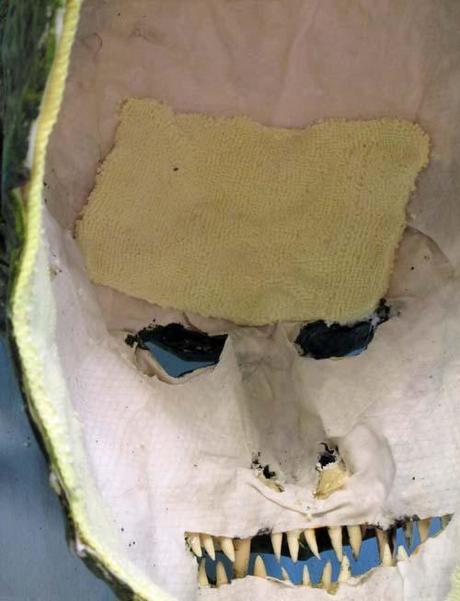 So that's it.   I really like this mask.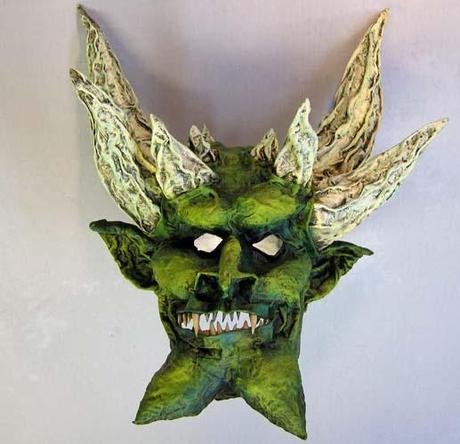 Happy belated New Year to all of you.  I hope you make a lot of art in 2014.
Next post....I'll let you see how my dog is coming along.