Hello everyone.  So where did we leave off?  Oh yes...time for toes.   No paper mache here.  Just pieces of wire clothes hangers.  I wrapped paper around them and added masking tape.  Made a bunch of itty-bitty toes.  Then I put them together to make itty-bitty doggy feet.  (Okay, I'll stop talking like that.)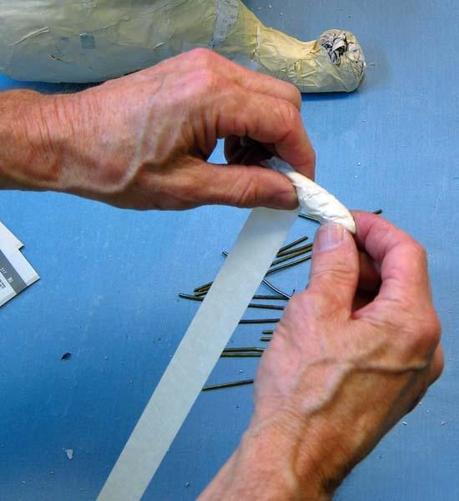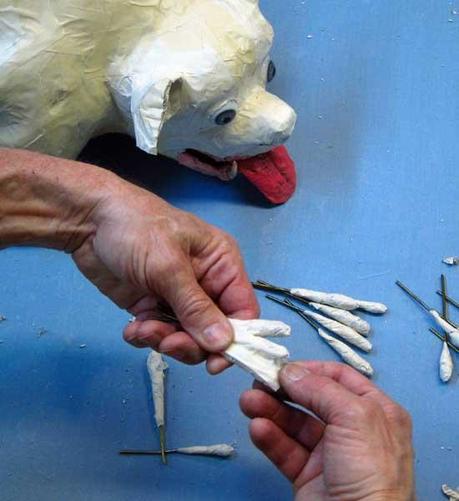 I fashioned a foot out of a wad of paper and added the toes.   One last pinky on the side.  Is is a "pinky" on a dog?  I added some pads to the bottom of the feet.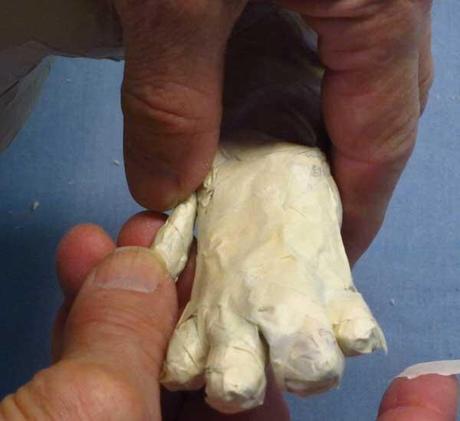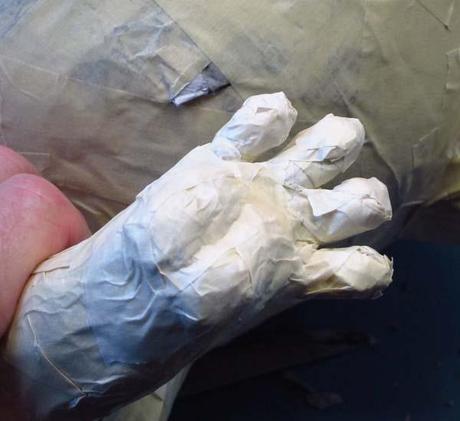 As I mentioned in my previous post, I started equivocating about eyes.   All of you artists out there know how neurotic that can get.  Back and forth, back and forth, brown, blue, cookies.  Brown fox eyes, or slightly bloodshot boar eyes, or blue human-ish eyes?   Obsess, change my mind, graham crackers (instead of cookies, but still 70 calories apiece!)(this was about a 2000 calorie decision.)   After all of that, I decided to keep the blue.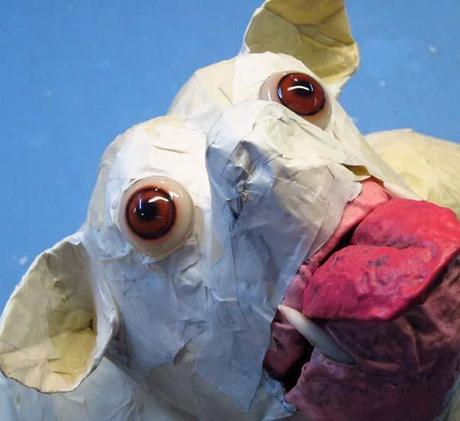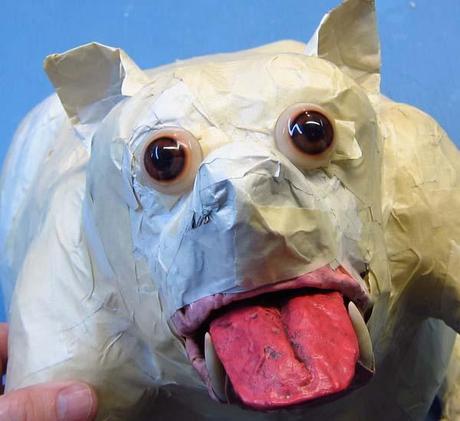 I cut some ear and nose holes.   Then I made some slits in the toes so that I could add claws.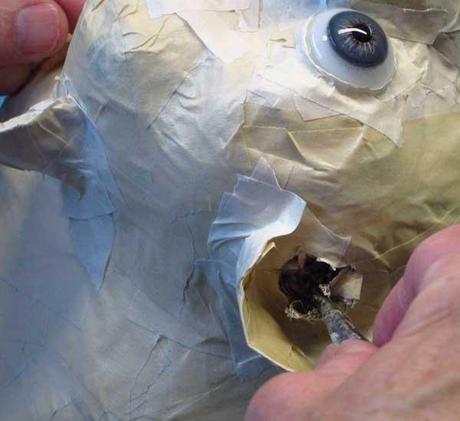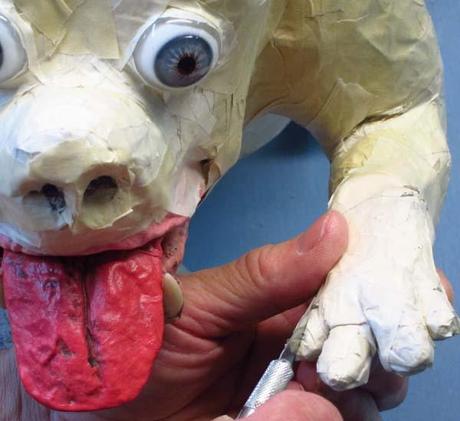 I added the claws.   I made black ones.   It turns out that bulldogs have either black or nail colored claws.   At this point I wasn't happy with the position of the head.   I wanted a kind of frisky look to this dog, with his head down and his butt in the air.  But his head was too low to the ground.  I decided he needed to be looking up a little.  So I grabbed the knife......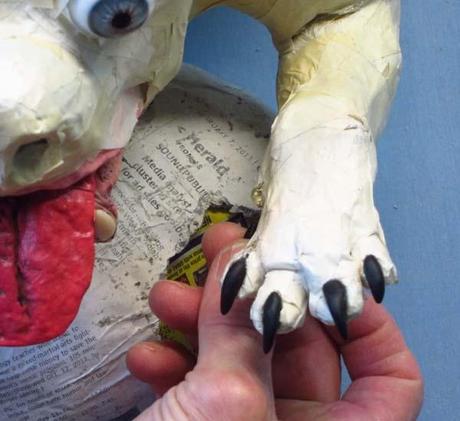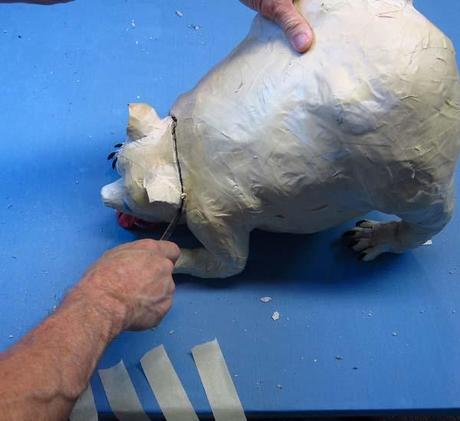 ...and off came the head!   This will surely be the photo that shows up on Google images when someone searches "dog".  I added to the existing head hole.   Nothing cute here.  It really looks like a pig's head!   I was listening to NPR the other day.  They were reporting about "Ramen festivals" that are springing up around the country.   Not the Top Ramen you get in the stores, but some fancier kind of ramen.   She described all these people making broth, all these big pots with pig heads floating in them!  That's how they make the broth!  Sorry, as a vegetarian that would send me running.   Of course I don't like most vegetables either.   I run from Brussels sprouts.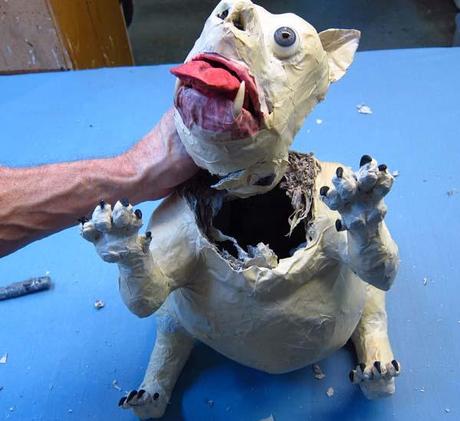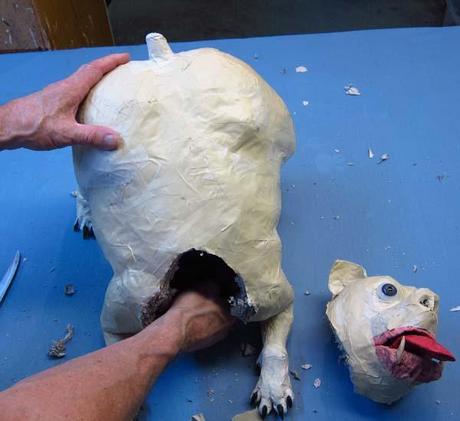 Much better!  I had to add some rolls of skin under the chin the fill in the gap.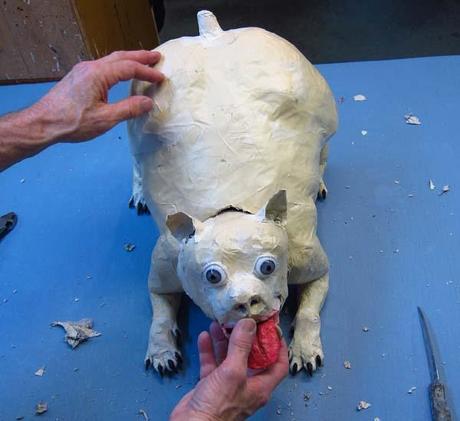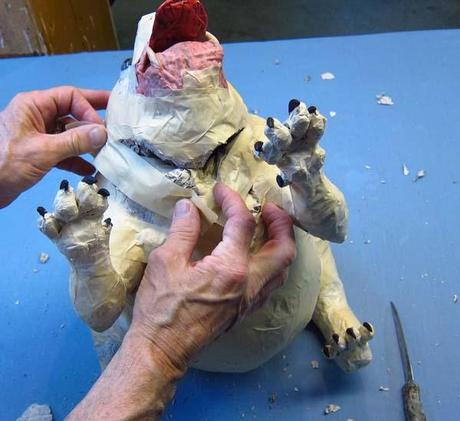 Time for the skin.   I started my cloth mache on the underside.  First the bottom of the feet.   Then the entire underbelly.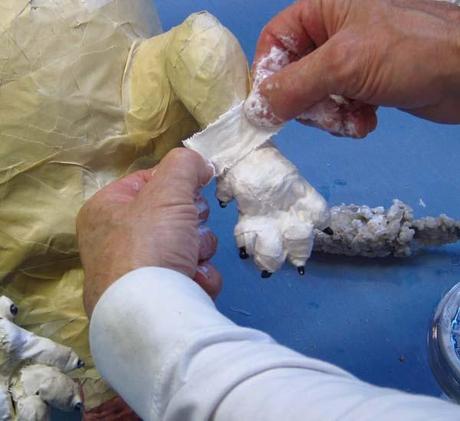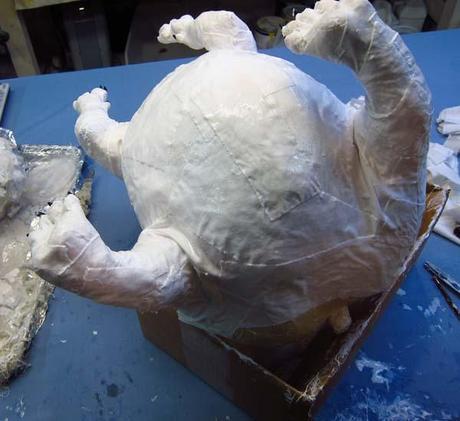 I'm going to leave you here.   The next post will be the best.  Get to add the skin to the face. What a difference that will make!  See you soon!   Thanks for stopping by.   Make art!