Yeh, yeh, it's been a while.   Been working on my paper mache, and my house.   (I have a really great project in the works.) So I left off with the Buddha holding the cup.  I took the cup out for a while.  I'm going to work on other parts and then come back.  I want the cup to be closer to his face.  There has to be a connection between the joyful expression on the Buddha's face and the cup of coffee.  This is for a coffee shop after all.
I taped on a paper mache ball for the head.  This is the approximate size.  I'll make many adjustments.   Speaking of adjustments, when I got the head on him, I realized that the belly was not big enough (for a proper "Laughing Buddha").  At this point I didn't have time to make another giant paper mache ball for another belly.   I thought of a rather clever way to remedy this situation (if I  may say so myself).  First, I cut the Buddha in half just above the belly.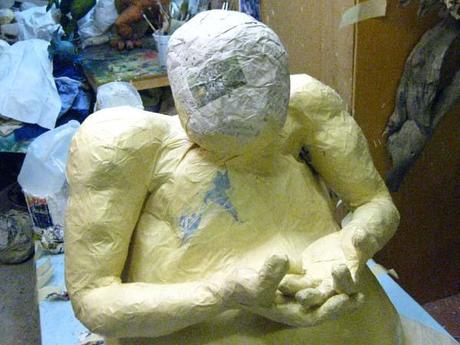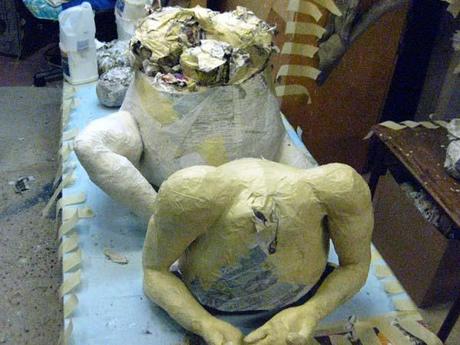 Then, when I set the top half of the body back on, I set it back about 6 inches.  It's hard but you can see this in this photo (below, on the left).  I then cut up smaller, extra, paper mache balls to create the round upper portion of the belly.  I used some of the same paper mache shells to make a smooth transition from the back to the butt (yes, Buddhas have butts).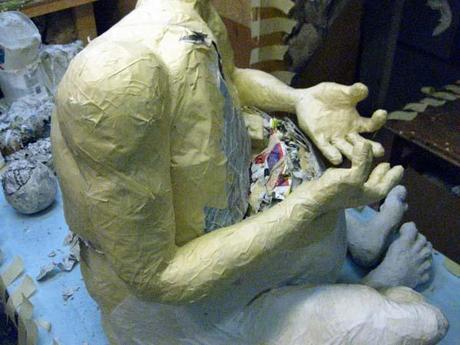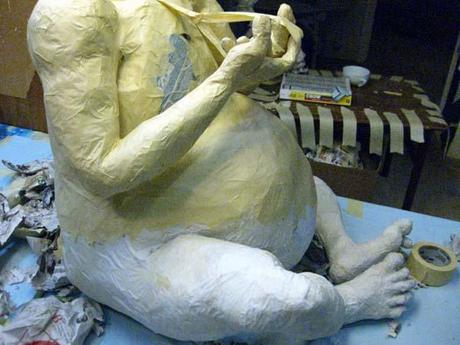 Time to make the jaws.  Since this Buddha will be smiling, I wasn't sure how many teeth would be showing.  So I made a proper set of teeth just in case.   As usual, I cut open a smaller paper mache ball and used the half shells for the jaws.  I hot glued the teeth onto the shells first.   Then I wrapped the teeth with my cloth mache.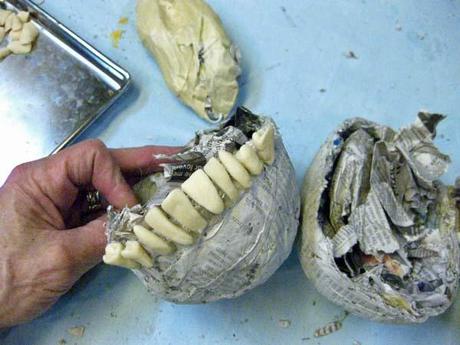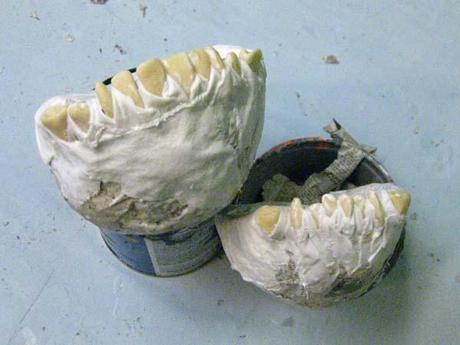 I painted the jaws a pretty pink and blackwashed them.   I forgot to mention that I also made a tongue.  I did this when I made the fingers and toes since a tongue is just two fingers put together with cloth over them both.  I cut a hole in the head.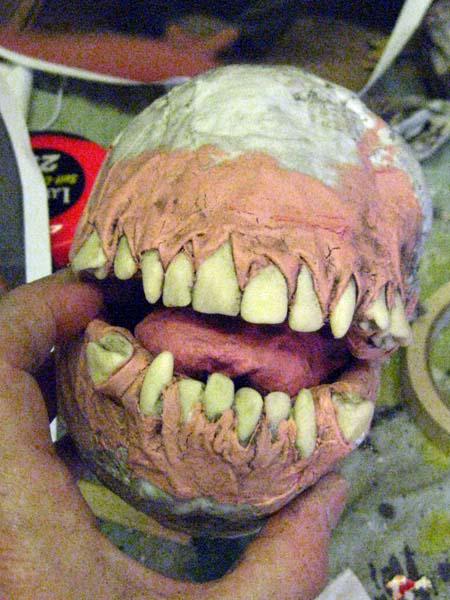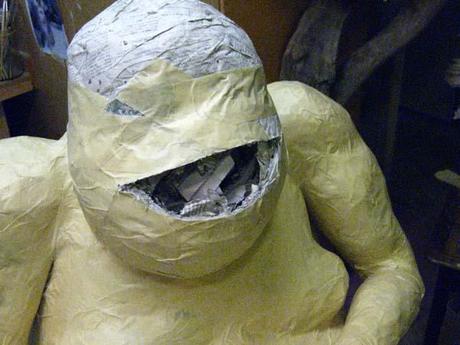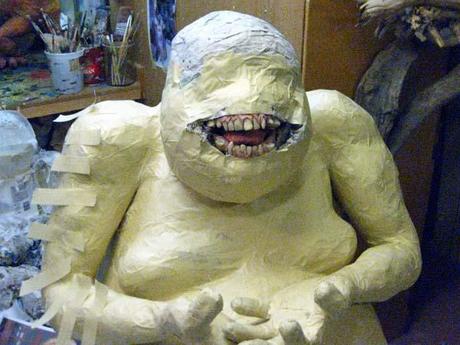 I pushed the jaws into the face.   Note that I also added Buddha breasts (yes, Buddhas have breasts).  Once again, I just cut a small paper mache ball in half and used the shells for those.
Have to stop here.  Will be back soon.  Thanks for stopping by. 
As an aside, I wonder which is worse, the heat wave across 95% of the US, or the pouring rain in Seattle in the middle of July?  Not much of a summer here.