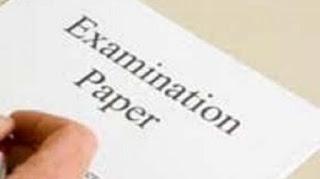 I chose a place next to the wall. I could lean my bare arm on the tiles for some cooling respite from the heat of the afternoon. The scuffed, well-worn desk reminded me of school. I put two spare pens, facing the same way, in the groove next to the empty ink-well. The hinged lid lifted easily. Well, I couldn't resist. Who would, faced with such nostalgia? It was empty, as expected. Inside, it smelt of a classroom freshly cleansed with that disinfected brown sawdust sometimes used on floors. Eric Wright, form 3 alpha had this desk in 1959, according to the neatly scratched detail on the underside of the lid. Initials in a heart shape had been obliterated with red ink, or paint. Identity lost forever.
It was almost time. The room had filled up. A couple of desks at the front remained empty. I read and re-read the exam rules on the blackboard. Papers were given out and we had reading time. I was relieved to see the question I had hoped for. My answer to that question covered everything and amounted to two and a half sides of A4 and earned me top marks in a mock exam. I knew it word for word, including a four line quote. Apprehension began to melt as I allowed myself a tiny hint of confidence.
Time to begin. I held my favorite Parker pen with a new, fine-point refill, poised to start with my well-versed question, only I couldn't. The answer had gone, almost every part of it, like something had erased it from my memory, paragraph by careful paragraph. I couldn't remember the quote beyond the first word. Some self-counselling, deep breaths, don't panic, answer something else and come back to it, this is an exam paper, not the end of the world.
I muddled through the exam. I managed other parts of it and returned to 'my question' praying for my brain to bring my memory back. It didn't. I answered it in the best way I could, which proved to be enough as I passed with a good grade.
That was more than forty years ago. I still can't remember that 'perfect' answer or the quote. I still have my mock exam papers showing the marking of 100%, but even now I can't bring myself to refresh my memory. The blip didn't hold me back.
  Here's something from Simon Armitage,
Paper Aeroplane
The man sitting next to me on the flight    was reading a blank book, keen eyes
   panning left to right across empty leaves, fingers
   turning from one white space to the next.
 Sometimes he'd nod agreeably or shake his head,    or painstakingly underline some invisible text
   with red ink, or decorate the margin
   with an exclamation mark or asterisk.
It was a hefty-looking tome, hand-stitched    but wordless front and back and down the spine.
   Coming in to land he laid the silver ribbon-marker
   between two bare pages to save his place.
 I was wearing noise-cancelling headphones    listening to fine-mist, when he leaned across
   and shouted, 'Forgive the intrusion, but
   would you sign this for me? I think it's your best.'
Simon Armitage.     Thanks for reading, Pam x    
Email This
BlogThis!
Share to Twitter
Share to Facebook
Reactions: