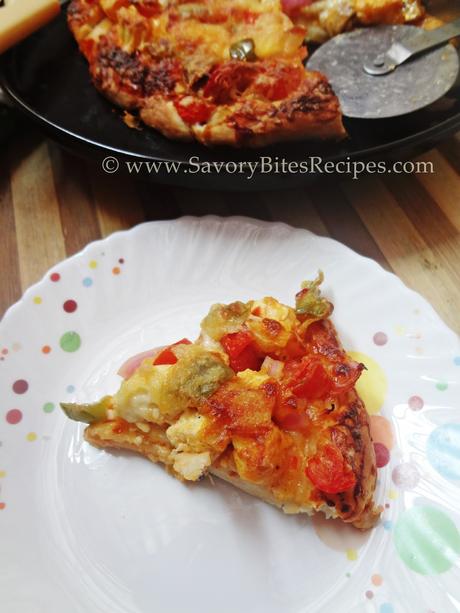 Paneer Mushroom Veggie Pizza
Use my recipe of pizza dough or make a pizza dough as per here.
First In a bowl,add the yeast,sugar and salt. Add the lukewarm to it. Mix well.Cover and keep aside so that will bloom.
After 7-10 minutes the yeast has activated and foamed up.
Now in a mixing bowl,add flour,yeast mixture little by little and make a smooth dough.
Knead the dough well as the more you knead the final base will be better and soft.
Add butter and milk to it and knead further.
The dough will be sticky,so apply little oil to your hands and knead further.
Cover and keep it in warm place. Specially in a the oven / microwave. Keep this dough to rise for 1 hour.
After 1 hour the dough will double in size.
Make sure if you are using microwave then keep it switched off.
Meanwhile,make the topping for pizza.
In a nother bowl,add the veggies like: mushrooms,paneer,onion,tomato.
Add all the spice powder to it. Add lime juice,salt,ginger-garlic paste.
Mix well and keep it aside.
Now preheat the oven at 350F.
On a baking tray,place aluminum sheet.Grease it with oil.
Take the dough ball,spread it on the aluminum sheet and form a smooth rim.
Prick it with fork at places and make sure the edges of the pizza base are formed.
Now use my recipe of pizza sauce or try this instant pizza sauce.
Spread the tomato Ketchup and Chilli Garlic sauce on the base.
Spread it evenly,mixing both the sauces.
Now,spread the veggies.
Add cheese on top.
Bake the pizza for 30 to 35 minutes at 320F.
If you want the base to be more hard then bake it further.
Spread more cheese on top.
Enjoy this hot pizza with coke or any other sides!!