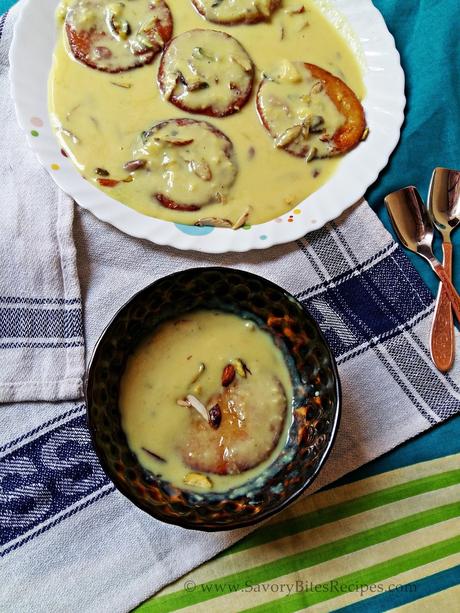 First make the Malpua dough.
In a hollow pan,add 500 ml milk and let it boil.
When it starts to boil,add the vinegar and switch of the gas.
The milk will curdle.
In a bowl,place the muslin cloth / cheese cloth and pour the curdled milk.
The cloth will hold the paneer and whey will separate in the bowl.
You can discard the whey or keep it to make rotis.
Collect the paneer in cloth.
Tie a know to the cloth and pour fresh drinking water on it so that vinegar smell will vanish from paneer.
Tie the cloth to the kitchen sink tap so that it will drain water from the washed paneer.
Let it stay for 1/2 to 1 hour.
Then take the paneer in a mixing bowl.
Add khova,milk powder,ghee,soda and cornflour to it and start kneading the dough.
Make a smooth dough out of it.
Let it rest for some time.
Meanwhile make sugar syrup.
In a sauce pan,add water and sugar and let it boil to make sugar syrup.
When the sugar dissolves and the syrup thickens slightly.
Switch off the gas and add rose essence to it.
To make malpua, in a deep frying pan,add ghee to fry the malpuas and let it get hot.
Pinch a dough ball on your palm and flatten it to form like a puri.
When the ghee is hot drop in puri to fry it.
Preferably fry one or max 2 malpuas at a time as they might break.
When the malpua is golden brown and cooked well, drain them and directly drop in sugar syrup.
Repeat this till all dough is consumed.
Let them sink in the syrup and let them sit for 1/2 hour.
Meanwhile make rabdi.
In a shallow pan,add 500 ml milk and let it start boiling.
Make sure it does not get burned.
When it starts to boil,add sugar,khova,almond mix.
cook well till all gets mixed well.
As the rabdi starts to thicken add the chopped dryfruits.
When the rabdi has thickened to a smooth and creamy consistency,switch off the gas and add the kesar.
To serve the Malpua:
In a bowl,place the malpua,pour the rabdi and garnish with chopped dryfruits.
Serve chilled and enjoy!