Paneer Khurchan is a typical dhaba style recipe that is a standard feature in all the Punjabi style dhabas. In the typical Punjabi style, the main feature of this dish is Paneer, sauteed with capsicum and cooked in a tomato based gravy.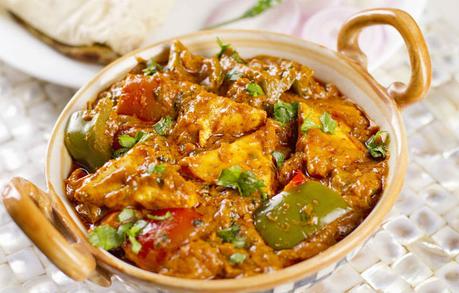 " Khurchan", originates from Hindi, meaning - scraping. In the earlier days, the gravy & milk remains used to be scraped out from the bottom of the vessels and made into a dish. Over time, this technique has evolved into including pieces of tandoori chicken or paneer into a tomato based gravy, where the gravy is cooked for a long time and is almost scanty.
An extremely fragrant dish, courtesy of the various spices like jeera (cumin), Dhania (coriander), Aamchur (dry mango), garam masala and ginger, this dish makes a great accompaniment to phulkas, chapatis, naan and even a mildly flavoured rice like pulao. There are different variants of the dish ranging from gravy to semi gravy and dry. The quantity of the gravy can be adjusted by increasing or decreasing the number of onions and tomatoes.
One of the important things to consider when making this dish is to have a heavy bottomed kadhai or pan. Else, there could be a risk of burning the paneer & base gravy while cooking. You can make it quite colourful by adding the different coloured peppers while cooking.
Punjabi cuisine is not all about chicken or paneer, there are some traditional ones too that are lip smacking. You could try out a few.
Punjabi Rajma
Rajma Paneer Paratha Amritsari Chole
Read on to know the recipe of Paneer Khurchan.
Paneer Khurchan