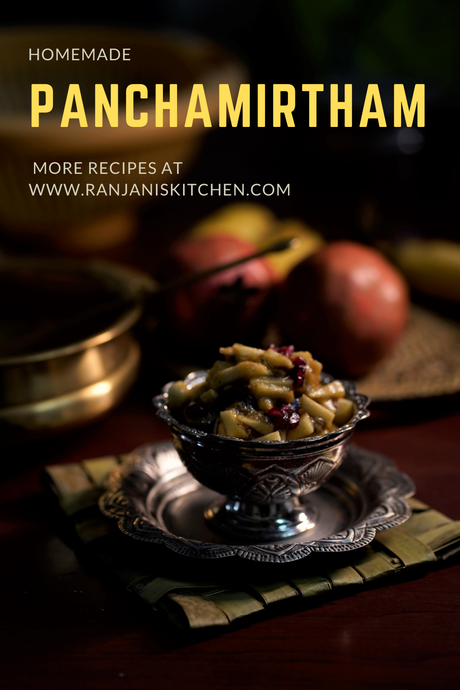 panchamirtham | panchamrut | mixed fruit panchamirtham - offered in all temples especially palani.. palani panchamirtham is very special. Though I didn't make this panchamirtham like the one we get in palani, it tastes good and divine. This kind of mixed fruit panchamirtham is offered in my native temple (sattanathar kovil). I like that very much . so I prepared that way.
They add mosambi, mango, grapes and kalkandu also. I didn't include these. I added the fruits which I had in stock.. the key panchamrit ingredients are jaggery, edible camphor, ghee and honey. So don't skip any of these.
You can panchamrut recipe with your available ingredients and serve as prasadham for neivedhyam on Fridays and auspicious days.try this homemade recipe of panchamirtham.
Wish you all happy tamil new year 2021 ( tamizh puthandu vazhthukal)
Tamil new year recipes:
video recipe for panjamirtham:
how to make panchamirtham:
1. Chop banana into small pieces, peel the apple skin and chop into small pieces. Collect the pomegranate kernles.
2. In a mixing bowl, add chopped banana, apple, kernel together.
3. To that add deseeded dates and cashews.
4. Then add jaggery, honey, ghee, edible camphor and cardamom powder.
5. Mix altogether and mash with ladle or use potato masher(maththu).
6. Serve as neivedhyam and eat.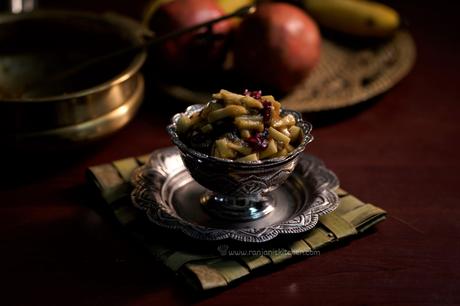 (Visited 3 times, 3 visits today)